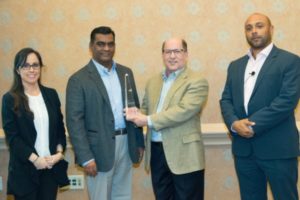 RheinBrücke IT Consulting, an enterprise business systems and IT solutions and services company, has been recognised by Epicor Software as the '2016 Epicor International Channel Partner of the Year' at their recent annual Ignite Global Sales Conference.
An Epicor Platinum partner for Europe, Middle East, Africa and India (EMEAI), RheinBrücke won the award for its contributions in customer support, overall sales growth and innovative approaches to leveraging Epicor ERP solutions.
Hesham El Komy, Senior Director, International Channel, Epicor, said, "We are delighted to have a partner like RheinBrücke that has over seventy-five highly qualified associates to deliver excellence and inspire customer satisfaction, and in doing so, create the foundation for sustained business growth and enable business transformation to stay ahead of the competition."
"RheinBrücke's strong growth in EMEAI can be attributed to the successful execution of our Epicor ERP strategy. In line with Epicor's strategy of providing industry specific ERP solutions and cloud first deployments, we have invested in a team of solution architects with extensive domain knowledge in Manufacturing, EPC/Construction and Distribution. Between our unrivalled technical capabilities and our focus on the mid-market segment, leveraging our global footprint, today, we have over forty clients in the EMEA region across our service offerings including ALCON, Al Hajery Group, Arabian Industries Group, Bin Hindi Group, Federal Mogul Auto Parts, FLSmidth A/S, Kern und Sohn, Sandoz GmBH and ZF-TRW Automotive," said Suresh Chandrasekharan, Chief Solutions Architect, RheinBrücke.