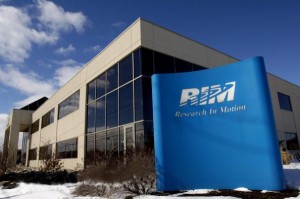 Research in Motion's stock price plunged 19% early Friday following RIM's announcement late yesterday of a $518 million first quarter loss and that its BlackBerry 10 smartphone has been further delayed.
At 11 a.m. EDT today, RIM's share price had dropped to $7.39 as investors reacted to Thursday's financial results that showed sharply lower revenue and a $518 million loss in the quarter ending in May.
Meanwhile, Reuters reported overnight that RIM may be considering a switch from its proprietary mobile operating system to the Windows Phone OS for future smartphones.
In an email to Computerworld today, a RIM spokesman said that "Our main priority at hand is the successful launch of BlackBerry 10. We will continue to evaluate partnerships and licensing potential but are focused on BlackBerry 10."
The launch will now come in 2013.
Several analysts Friday cast doubt on the Reuters report, which cited three sources who said continuing financial pressures are forcing RIM executives to consider potentially undesirable options like partnering with Microsoft or even selling its network business. Selling the proprietary global network would open RIM's network operations centre to other smartphone providers that could in turn enhance their network security.
Both options, the sources told Reuters, were undesirable to the RIM board, which still wants to push ahead with BlackBerry 10.
"RIM seems unlikely to give up on BlackBerry 10, given how much they emphasised it" during Thursday's earnings call, said Stuart Jeffrey, an analyst at Nomura International.
Still, in a note entitled "Fiddling while RIM burns" sent to investors on Friday, Jeffrey said, "If RIM continues to be run as it is, we believe that the company will eventually fail."
Jeffrey said he doesn't anticipate that RIM will be acquired or will merge with another company, but noted that Google's acquisition of Motorola Mobility had seemed unlikely before it happened.
Thus, the note said that a merger or acquisition is "the only reason to not turn negative on the stock."
Jack Gold, an analyst at J. Gold Associates, said switching to Windows Phone "would make no sense. It would take longer for RIM to get WinPhone working than to continue the path to BB10."
Added Ramon Llamas, an analyst at IDC: "It doesn't make sense for RIM to switch to Windows, because that scenario is a one-way street that benefits only Microsoft, which wants a bigger smartphone footprint globally."
IDC said BlackBerry's smartphone share in the first quarter of 2012 was just 6.4%, about half of its share a year earlier.
Llamas is one of very few analysts that see some hope for RIM.
"RIM has lost luster in a lot of quarters, but RIM also still has good brand recognition in a lot of the world," he said, though he added that "it's going to get worse before it gets better."
Llamas also said that RIM should make moves to halt the departures of top executives while focusing on boosting its business in emerging markets like Brazil, India, Indonesia, the Middle East and Africa "where a lot of people are looking to upgrade their BlackBerry phones."
Gold said that aside from the dismal — and expected — financial news, "the real bad news is that RIM is slipping BlackBerry 10 shipments into next year. [That] means they will miss both the back-to-school and holiday selling seasons."
At the same time, Gold noted that Windows Phone 8 and iOS 6 are expected to launch in coming months.
"I don't know how long the installed base of users will wait for RIM to get Blackberry 10 out. I suspect many will jump ship for another OS in the next six months, having been disappointed by the delay," Gold added.