Ring has announced it is joining forces with Al Jammaz Distribution – a distributor of advanced technology products, at GITEX this week.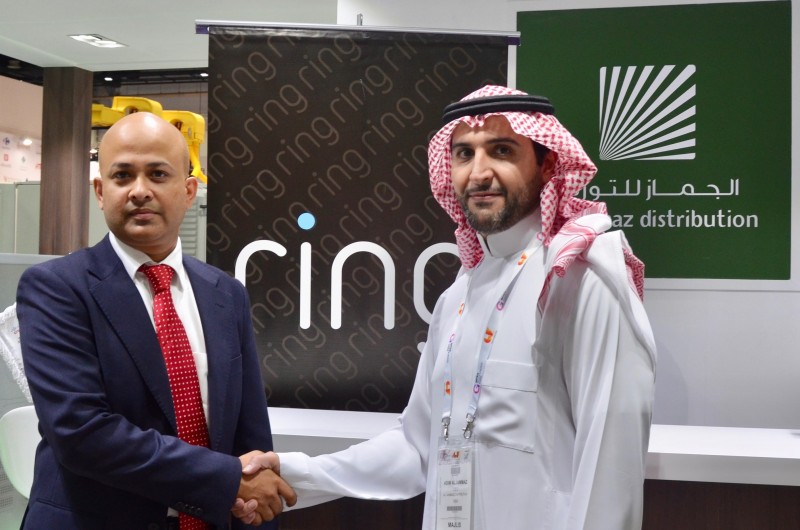 The partnership will help Ring foray and expand its reach across the Saudi market, offering customers its innovative home security products and solutions.
"Ring believes in keeping homes and communities safe rather than just comfortable, and we hope to change the way home owners view security by keeping an eye on their family and property, even when they can't," said Mohammad Meraj Hoda, Managing Director of Ring. "We re-imagined the doorbell so consumers could respond – using a smartphone – to someone at their front door from anyplace, anytime, while simplifying the technology with the combination of app, cloud and security hardware."
As the Value Added Distributor, Al Jammaz will promote Ring's latest suite of smart home security products such as Ring Video Doorbell, Ring Video Doorbell Pro, Video Doorbell Elite, Ring Floodlight Cam and the new Ring Spotlight Cam.
Al Jammaz will also set up go-to-market strategies with key retail partners and provide the needed infrastructure for micro-channel to engage with the Ring brand.
"Al Jammaz has been providing technology-driven business solutions in Saudi Arabia for over fourteen years, and in that time has succeeded in reaching almost 90% of the Saudi Arabian channel and distribution market. We look forward to working with Al Jammaz to address the home security needs by extending the product offerings through ISPs, online retailers and system integrators, where they have very strong relationship," concluded Hoda.
"We see exciting new possibilities in this partnership with Ring across the Kingdom, and it will also help Al Jammaz to better address our customer's needs in today's environment of ever-increasing demand for home security solutions," added Asim Al Jammaz, CEO, Al Jammaz Distribution.