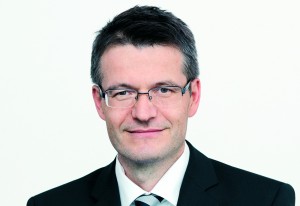 Reichle & De-Massari (R&M), the Swiss structured cabling company, has announced it will be participating at GITEX. At the event, the focus of R&M, which is one of the top 3 structured cabling vendors in the region in terms of market share, will be on its innovative range of data center and Fiber-to-the-home (FTTH) solution offerings.
R&M's newly appointed CEO, Mr. Michel Riva, along with newly appointed CSO Mr. Richard Eichhorn, based in Switzerland will be travelling to Dubai to attend GITEX. Commenting on R&M's business in the Middle East and Africa region, Mr. Riva says, "MEA represents a high growth market for R&M with huge business potential."
"We are investing heavily in the region to ensure that product delivery speed, quality, and reliability R&M is renowned for is carried through. I am excited to visit the market in my new role as CEO and engage in meaningful business discussions with current and potential customers and partners."
R&M is set to exhibit its Cat. 6A and Class EA copper cabling solutions as well as the Distributed Frame HD cable management cabinet as part of its data centre offerings. Also, given that space-savings is a mega-trend in data center design, the company will also highlight its 'High Density Panel' and the 'Raised Floor' solutions. With the Raised Floor Box, cabling connections can be conveniently shifted to under the floor thereby simplifying connections layout and maximising space utilisation.
In addition, R&M has been responsible for a number of high profile FTTH deployments across the Middle East and will also demonstrate its range of FTTH solutions. These include Street Cabinet, Splice Closure Single Circuit Management (SCM) and Optical Distribution Frame solutions which are used to organise fiber-optic cable connections. Thanks to these innovative solutions, R&M MEA is the number one FTTH vendor for connectivity in the region.
The cabling specialist has been aggressively expanding its footprint in the region and now targets establishing itself as the leading data centre cabling solutions provider by 2013. "Thanks to large investments, we have increased the quality and efficiency of service in the region. Our newly opened patch cord assembly facility along with our 'Fiber Lab' located in our regional MEA headquarters in Dubai gives speed and flexibility to our customers.
With these milestones, we are now better equipped to serve a broader range of customers in the region and we believe that GITEX will help us to meet potential customers as well as new sales channel partners who can help us to drive our business in the region," says Jean-Pierre Labry, Executive Vice President of R&M Middle East and Africa.
R&M's innovative modular end-to-end copper and fiber solutions are a good fit for the type of large scale infrastructure projects now being undertaken in the Middle East. Companies keen to adopt a green approach to network cabling can do so through the installation of R&M's energy and space efficient cabling solutions that are manufactured in a green facility.