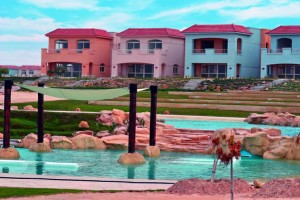 Swiss structured cabling specialist R&M, has successfully completed implementation of a large scale cabling project for the Rooya Group, a prominent real estate development company in Egypt.
The cabling for the Rooya Group's 'Telal Al Alamein' project was carried out within a six month time frame and involved the installation of R&M's Cat6 cable infrastructure for the complete connectivity of more than nine hundred villas.
The aim of the project was to provide residents with excellent connectivity thereby permitting the availability of highly reliable and secure high-speed internet and HDTV services, it said.
"The Rooya Group prides itself on building strong trust-based relationships with its property owners. Providing residents with the latest and highest quality facilities plays a large role in building this level of trust," said Mr. Mohamed Salah, IT director of the Rooya Group.
"R&M is one of the top vendors in the region and thanks to a strong local presence they are capable of timely and skilled support. The other reason we decided to go with R&M is the extremely high quality of their products. They even offer a 25 year systems warranty and this gives us the peace of mind in the long term security of our investment," he added.
For the massive cabling project, R&M's industry leading Cat 6 cabling infrastructure was used for ultra high performance and connectivity. The high-quality twisted pair cables which support Gigabyte Ethernet were suggested by R&M as they met all the present requirements while accommodating for future needs as well, it was said.
These cables which are suitable for transmission of voice, video and data ensure maximum performance and connectivity throughout the network while enabling faster broadband transmission speeds. In order to meet the aesthetic requirements, R&M provided customised decorative faceplates for the connector boxes as per the architect's specifications.
In addition to providing cables for the Telal Al Alamein project, R&M also ensured that the engineers of its channel partner for the project received the best possible training through R&M's flagship Qualified Partner Program (QPP). The program involved hands-on sessions to recreate real world scenarios and provided the engineers with all the training necessary to smoothly and efficiently carry out the installation process.
"R&M through its local support always strives to deliver the high quality solutions that our customers have come to expect from us. Right from studying the project during the design phase to selecting the right product and assisting the installation team through the implementation process, customer satisfaction is our prime aim," said Mohamed Allam, sales manager, Egypt.