HE Mattar Al Tayer, Director General and Chairman of the Board of Executive Directors of Roads and Transport Authority (RTA) has announced the launch of a five-year digital strategy (2017-2021).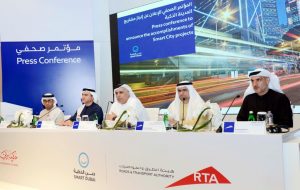 The strategy was announced at a press conference held at RTA HQ, which highlighted the progression of smart programmes for transport thus far.
"The launch of this strategy is part of the global future trends that show the world is bracing for a fourth industrial revolution focused on artificial intelligence and robots. The strategy is undertaken in implementation of the directives of the UAE government for shaping the future and realising the national agenda, X10 initiative and RTA's excellence drive," said Al Tayer.
Abdullah Al Bastaki, Director of Technology Strategy and Governance, reviewed the RTA's comprehensive digital strategy, which is aligned with government strategies including Dubai Strategic Plan 2021 and the National Agenda, and integrates with RTA's internal specialised strategies.
"Benchmarks were conducted with leading global entities operating in roads and transport sector to review the key and the latest technologies to identify areas of benefits. The strategy's mission is render the RTA a world's leader in implementation of digital technologies in roads and transport. The strategy has 3 key themes: innovation, sustainability and people, where 6 strategic pillars namely: people's happiness, operational efficiency, asset sustainability, services delivery, information centricity and innovation pioneering," added Al Bastaki.
"To ensure the implementation of the strategy, a roadmap has been developed including technology initiatives and projects for the coming five-year roadmap to ensure RTA's global lead," he concluded.