Dubai's Road and Transport Authority (RTA), in cooperation with Next Future Transportation, launched the first tests of the "world's first" autonomous pods today, on the sidelines of the World Government Summit.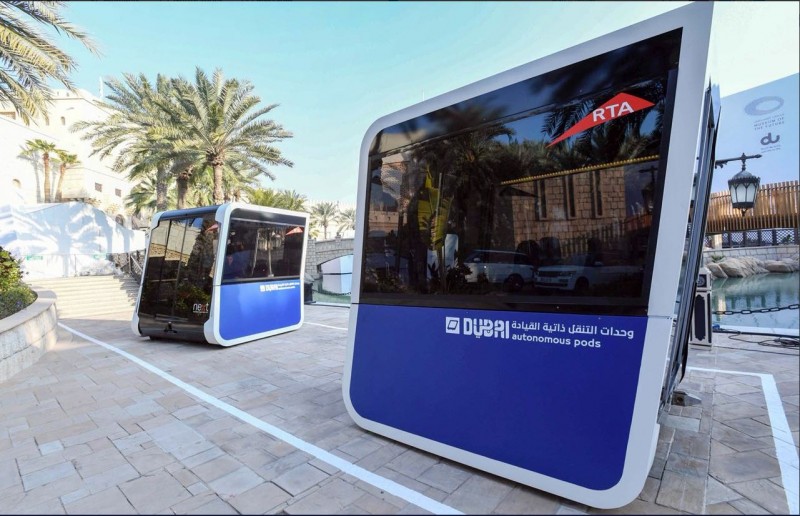 The step is part of the RTA's efforts under Dubai Future Accelerators initiatives.
The autonomous pods are designed to travel short and medium distances in dedicated lanes. Each pod has a capacity to accommodate ten riders (6 seated, 4 standing). The pod is also fitted with a battery that supports 3 hours of operation, which is chargable in 6 hours. Its average speed is 20 kilometres per hour.
HE Matter Al Tayer, director-general of the RTA, said, "The pilot test of driverless units is directed by HH Sheikh Mohammed bin Rashid Al Maktoum, in the context of transforming Dubai into the smartest city worldwide. It is also part of RTA endeavours to provides autonomous transport through carrying out technological tests on autonomous transport under Dubai's climatic conditions."
He added, "It also echoes the Dubai Autonomous Transport Strategy, aimed at converting 25% of mobility journeys in Dubai to autonomous means by 2030."
Within the framework of Dubai Future Accelerators, RTA launched tests of the world's first 'Autonomous Pods' today @WorldGovSummit pic.twitter.com/jJgcBXxh4f

— RTA (@RTA_Dubai) February 11, 2018
Earlier this year, the RTA announced it would begin trialling autonomous vehicles in Sustainable City as early as February 2018. In addition, the Authority announced it will soon begin the trial of an autonomous shuttle service in Downtown Dubai to transport passengers between Dubai Mall and an underground parking on Mohammad Bin Rashid Boulevard.
Operating on a dedicated corridor, the trial will see driverless vehicles cross traffic intersections and interact with Dubai's smart traffic lights for the first time. With segregated pathways for pedestrians, cyclists, regular vehicles as well as the autonomous vehicles, the trial will ensure seamless movement of all modes of transport without impacting each other.