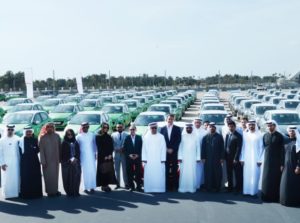 The RTA has unveiled a new Dubai based service that enables customers, particularly public transport users, to rent cars for short periods using smart apps.
The service, known as Smart Car Rental, is an RTA initiative in partnership with U drive and ekar. Each company has been contracted by the RTA to run 100 vehicles each, at a fare ranging from 40 to 50 fils per minute. This equates to AED24 per hour if the vehicle is returned to its starting station, or AED30 if it is a one-way journey and the car is stationed at an alternative point throughout the city.
The cars, which can be rented for no longer than six hours at a time, are classified into 'metro cars' or 'city cars.' The metro cars can be picked up from any of the metro stations across Dubai, and the city cars are positioned at popular locations within the emirate.
Yesterday's launch was held in the presence of HE Mattar Al Tayer, director general and chairman of the board of executive directors, RTA, nearby the recently opened Dubai Water Canal.
After taking part in a live demonstration, Al Tayer said, "The smart rental service supports RTA's effort to bring happiness to the people and increase the ridership of public transport means. The service also aims to enhance the integration of mass transit systems through easing the mobility of commuters, especially metro and tram riders, to their final destinations."
Vilhelm Hedberg, co-founder and CEO of ekar, said, "As part of our partnership with the RTA, half of the ekar fleet is deployed around the Dubai Metro stations to provide seamless linking of communities across the emirate with end-to-end transportation solutions. Through this visionary car share scheme, we will provide freedom of driving a car without the hassle that ownership gives."
The concept of car sharing, as opposed to car ownership, is becoming increasingly popular worldwide. "For those who don't want to commit to ownership, or don't have the need for everyday car accessibility, this is the perfect option," said Hasib Khan, managing director of U Drive. "We are pleased to be the first public car sharing provider in the Middle East and to be a part of Dubai's smart vision."