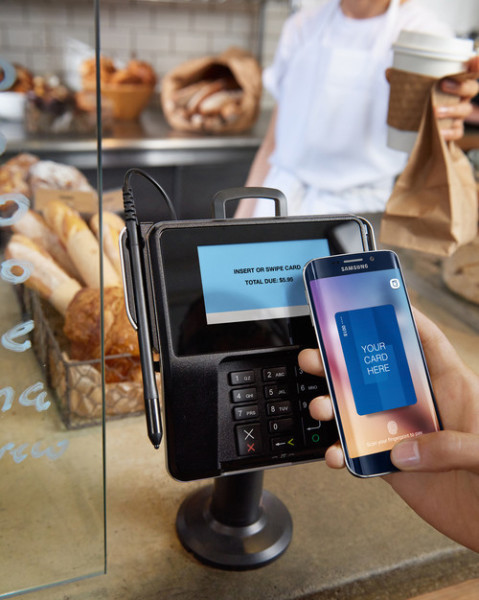 Samsung will soon be launching its mobile payment service, a new offering that aims to compete with heavyweights Apple and Google.
Samsung Pay is expected to be rolled-out in South Korea on August 20th and will be followed by a US launch on September 28th. The system will eventually be rolled out in the UK, Spain and China, however, Samsung did not specify the time frame for this expansion.
The company's original rollout plans was announced in March at the Mobile World Congress, which called for Samsung Pay to appear first in the US market this summer. According to the Samsung, unlike rival contactless payment systems like Apple Pay and Android Wallet, Samsung Pay doesn't exclusively use NFC technology to communicate with credit card terminals. Instead, it relies on a technology called Magnetic Secure Transmission (MST) to pass along the information in a card's magnetic strip to terminals already used by retailers. This means a phone using MST can be used to purchase items at nearly any payment terminal.
The expense of installing NFC-compatible terminals has prevented many retailers from adopting the technology, hindering the use of mobile wallets. Samsung CEO J.K. Shin noted these concerns during an event in New York where he also announced the company's newest line of smartphones. Shin said merchants can accept Samsung Pay without added costs while people can use the system at almost every store that takes credit cards.
Even though Samsung talked up MST, its payment system will also work with NFC.
The tech giant acquired MST technology in February after purchasing mobile payment company LoopPay. At that time, LoopPay claimed MST works in approximately 90 percent of the point-of-sale terminals in the US. A Samsung spokesperson added that less than 10 percent of US retailers used NFC.
Samsung Pay will come installed on the company's latest smartphones, the Galaxy Note 5 and Galaxy S6 edge+. Starting in the middle of August, a software upgrade will let Galaxy S6 and S6 edge owners in the US and South Korea install Samsung Pay.
Instead of exchanging credit card details with a terminal, Samsung Pay uses tokenisation to pass along a temporary code, a system found in other contactless payment systems. Customers can use their fingerprint to confirm a purchase.
Samsung is working with South Korea's major credit card companies on incorporating Samsung Pay into payment networks. In the US, Samsung will work with credit card issuers like American Express, Visa and MasterCard as well as large banks, including Chase and Bank of America.
At least one US credit card company has already said it's supporting Samsung Pay.
Originally published on IDG News Service (Boston Bureau). Reprinted with permission from IDG.net. Story copyright 2021 International Data Group. All rights reserved.