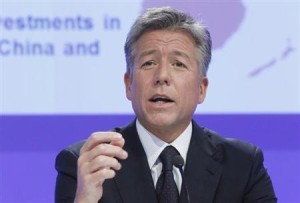 SAP CEO Bill McDermott kicked off Hannover's CeBIT 2015 technology trade show by underlining the importance of a versatile digital economy in a one-on-one Q&A session.
McDermott also addressed issues surrounding privacy concerns in Germany, where he runs the software giant.
"Cloud is becoming a pervasive theme of our generation," he said. "It's important for companies to change, and make bold moves."
When asked about the increased prominence of digital technologies in and potential subsequent changes in the job market, McDermott said that organic shifts would ensure that people would not be left out of work. "I have an optimistic view of jobs and dreams," he said. "Ultimately, people need to deal with people; human currency is vital whatever age we are in. The digital march is certainly on, but people need to be retrained for the digital economy. We have not have the opportunity to create certain jobs, but they will emerge in different areas.
"Companies have to be able to relate to consumers via any channel and through any device. When a company interfaces with a customer, we need to know who they are via a 360 degree view."
The conversation moved on to the topic of privacy and information security, and McDermott was quick to underline the importance of trust and flexibility in satisfying customers.
"It's absolutely essential to protect privacy and adhere to compliance," he said.
"A business has a technical responsibility, and cannot have backdoors so that it can protect data and privacy. A free global economy is essential for innovation. Does SAP have government backdoors into its technology? No. Period. Period."