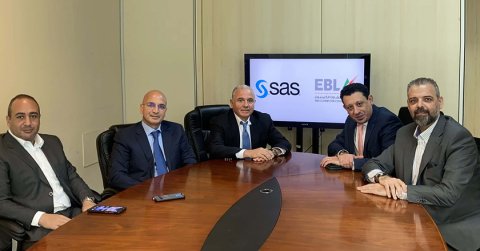 SAS, the leader in analytics, has announced a new partnership with EBLA, an acclaimed systems integrator company in the Arab Gulf region with a strong presence in Qatar. The two companies combined their strengths to provide unwavering support to Qatari organisations embarking on their analytics and decision-making journeys.
With over 300 specialists and highly experienced professionals, EBLA is one of the largest professionally managed IT companies in Qatar and the wider region. The company places a premium on offering its customers cutting-edge, internationally recognised enterprise software solutions. As part of its customer-centric philosophy, EBLA is committed to providing superior support services and establishing meaningful relationships with private and public organisations.
Recently, the State of Qatar affirmed that digital transformation is key to accomplishing Qatar National Vision 2030 and building an advanced country capable of achieving sustainable development while guaranteeing the long-term preservation of its citizens' well-being. From the successful hosting of the first-ever carbon-neutral FIFA World Cup Qatar 2022 to the TASMU Smart Qatar initiative, the country is already witnessing the implementation of remarkable technological advancements. Furthermore, according to the latest IDC forecast, IT spending in Qatar is anticipated to grow from US $3.14 billion in 2023 to US $3.6 billion in 2026.
As Qatar's inspiring leadership strategies serve as a catalyst for the acceleration of the public sector's and enterprises' digital transformation and sustainability efforts, the need for reliable and powerful analytics, AI, and intelligent decisioning platforms rises. For nearly half a century, SAS has been delivering the same trusted results to help organisations around the world overcome pressing challenges and prepare for the future.
"SAS has been a dominant player in a broad spectrum of industries and has made significant investments in Qatar", said Zafir Junaid, Regional Director, MEA Growth Markets SAS. "Collaborating with EBLA is a strategic move that aligns with the company's vision of sustainable growth, exploring untapped markets, and driving the adoption of our revolutionary cloud-based analytics and AI solutions".
Fouad Ghannam, Head of Channels, Middle East, Africa, Türkiye, Ukraine & Central Asia at SAS, added: "As we believe in channel-driven business growth and the value partners can provide, teaming with a strategic partner like EBLA opens up exciting opportunities for both companies in the country, particularly in supporting Qatar's National Vision 2030 objectives for the transformation of the public sector".
Through skilled delivery, guidance, and integration, EBLA will assist Qatari organisations in realising the value and potential of SAS' offerings to meet all their analytics needs and stimulate innovation. The cloud-native SAS Viya AI, analytics, and data management platform is available on the Microsoft Azure Marketplace and is designed to be delivered and updated continuously. Organisations can tap into the robust data exploration, machine learning, and model deployment analytics tools, as well as the broad language support and low- or no-code options for users of all skill levels, with just a click of a button. In addition, SAS offers risk and fraud solutions, a cutting-edge customer intelligence platform, and dedicated industry solutions across areas like banking, insurance, retail, manufacturing, health care, and the public sector.
Hilal Arnaoot, CEO at EBLA, stated: "As CEO, I am thrilled to announce our strategic partnership with SAS, a game-changer in the world of analytics. By joining forces, we solidify our position as industry leaders and open a world of new possibilities for our business. Together, we will leverage the power of advanced data analytics to gain invaluable insights, optimize operations, and drive remarkable growth. This partnership marks a significant milestone in our journey towards innovation and sets the stage for a future of unrivalled success".
"By partnering with SAS, we bring unprecedented benefits to our valued customers. Together, we harness the transformative power of data and analytics, delivering unparalleled insights that drive informed decisions and ignite growth. With SAS as our trusted partner, we empower our customers to unlock new opportunities, enhance efficiency, and achieve remarkable results in an ever-evolving business landscape", Nabil Nuseibeh, Qatar Country Manager at EBLA concluded.