H.H. Sheikh Hamdan Bin Mohammed Bin Rashid Al-Maktoum, the Crown Prince of Dubai and Chairman of the Executive Council, awarded Badir Program for Technology Incubators, one the initiatives launched by King Abdulaziz City for Science and Technology (KAUST), Sheikh Mohammed Bin Rashid Award for Young Business Leaders (YBL) in its tenth edition, for the best incubators and accelerators providing entrepreneurship support.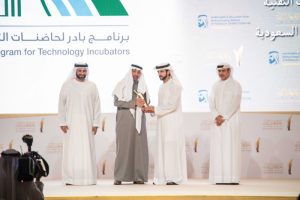 The award was received by Nawaf Al Sahhaf, CEO of Badir Program, at the awards ceremony held today at Dubai World Trade Center. The jury's decision to grant the award to Badir Program was based on the program's achievement of all criteria, including growth performance indicators, creativity and innovation, social responsibility, organisational excellence, achievements and active contributions to support small and medium-sized enterprises and technology startups.
On this occasion, Nawaf Al Sahhaf, CEO of Badir Program for Technology Incubators, commended the Program's winning of HH Sheikh Mohammed Bin Rashid Award, which reflects the program's performance and plans to develop and support technical entrepreneurship and incubators throughout the Kingdom and its success in helping female and male Saudi entrepreneurs transform their technical ideas into successful investment projects, and providing the right environment for the growth of technology startups, by reducing risks and focusing on business development to build a knowledge-based society and economy".
He said: "Since its inception, Badir Program was able to provide its specialised services to more than 200 technology startups. In 2017, the number of technology startups incubated by the program increased to 157, as we plan to support the establishment of 600 new companies that will contribute to the provision of 3,600 jobs for Saudi young men and women, as part of the National Transformation Program 2020 ".
He noted that Badir program most important achievements in 2017 included the establishment and operation of three technology incubators in three Saudi cities, in line with the program's plan to cover nine areas by 2020, the opening and launching of the first business accelerator in Riyadh as well as the support and organisation of more than 65 entrepreneurship events including three events for Demo Day that gathered start-up companies and financing investors.