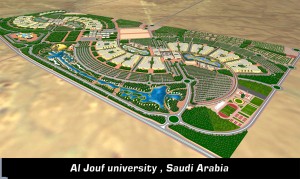 The Al Jouf University in Saudi Arabia has deployed Cisco WebEx enterprise collaboration solutions for efficient and secure e-learning.
Cisco WebEx will provide Al Jouf University students, lecturers and staff members with an easy way to exchange ideas and information with anyone, anywhere. Cisco WebEx combines real-time collaboration with voice over IP technology, so everyone sees the same thing as they converse.
Eid M. Al-Mohammed, general director, IT Department, Al Jouf University said, "Our goal is to become one of the kingdom's leading universities, delivering world-class education. Cisco WebEx will keep us ahead of the game by enabling us to offer us a cost-effective e-learning solution that will allow our students and teaching professionals to meet online and enjoy the richest, most interactive online classroom experience wherever they are, as easily as if they were face-to-face."
The university will deploy a number of WebEx products, including Cisco WebEx Meeting Centre, Cisco WebEx Event Centre, Cisco WebEx Training Centre and Cisco WebEx Support Centre.
Cisco WebEx is software delivered as a service. The user simply subscribes to the service and can then use it from any computer with an Internet connection, and even from most smartphones such as the iPhone or BlackBerry.
Participants can be invited to attend a WebEx meeting via email, IM or text and do not have to subscribe to WebEx. They simply click a link in the invitation to join online, where they'll get visual prompts to join the phone conference.
Once a session is started the meeting organiser and participants can share documents, presentations and applications or even open a blank document and start creating together.
According to the company, the solution aids in making classes more engaging and delivering dynamic e-learning anywhere in the world. The solution enables teaching professionals to reach more people in less time as well as to save money by adopting a simple, powerful e-learning strategy.
"With education being at the top of the national agenda of the kingdom, this is a very strategic and important deployment for Cisco in Saudi Arabia. The University of Jouf now has access to a richer collaboration environment within WebEx, which will provide more of an 'in-person' type of experience, which can lead to greater productivity in virtual classroom sessions. Cisco WebEx takes advantage of real-time collaboration and the ability to monitor and measure class effectiveness, thereby slashing training costs and streamlining administrative processes," said Mohammad Al Rehaili, WebEx channel manager, WebEx Technology Group, Cisco, Saudi Arabia
Cisco WebEx is available to businesses in Saudi Arabia through the Saudi Telecom Co. (STC), which has an agreement with Cisco to supply Cisco WebEx communications technology to businesses throughout the kingdom.
Al Jouf University is a recently established university with 19,000 students. It boasts more than 100 full-time professors and comprises 12 colleges offering a wide range of majors, including science, applied medical sciences, engineering and medicine.