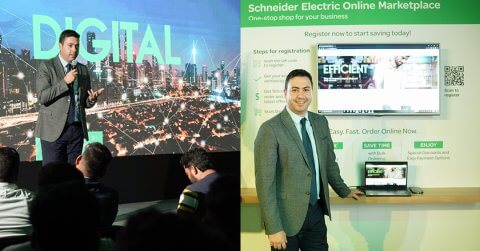 Schneider Electric, a leader in the digital transformation of energy management and automation, has launched the Schneider Electric Online Marketplace – an e-commerce platform aimed at creating an easier and faster shopping experience for the UAE electrical retailer market.
Alper Vargel, Gulf Vice President of Home & Distribution for Schneider Electric, said: "We are thrilled to launch our Schneider Electric Online Marketplace in the United Arab Emirates. It will significantly expand our reach as the retail industry pivots to e-commerce, providing our partners and customers with faster, easier and more convenient ways to improve the way they do business".
Vargel added, "Schneider Electric is leading the digital transformation of the retail market with tailored e-commerce platforms such as these in the Gulf and across the globe too".
Schneider Electric Online Marketplace offers fast and easy access to a wide range of Schneider Electric products, including light switches, sockets and accessories; low-voltage protection devices; motor protection, relays and industrial control; thermostats and sensors.
Launched at a private event in Dubai for key retail clients, its UAE market entry follows Schneider Electric's successful introduction of the e-commerce platform in Egypt, India, Singapore and Indonesia.
The launch coincided with the introduction of two new Schneider Electric products: Resi9 and AvatarOn C.
The company's Resi9 device is designed to provide the utmost electrical protection for the country's residences and buildings and features a special Green Premium product tag. The Green PremiumTM label is Schneider Electric's commitment to delivering products with best-in-class environmental performance. Green Premium promises compliance with the latest regulations, transparency on environmental impacts, as well as circular and low-CO2 products. The Resi 9 device is easy-to-install and can be used in new builds or renovation projects.
Meanwhile, the AvatarOn C range offers a wide variety of functions for homes, with everything from single switches and sockets to multi-module frames. The range lets users combine up to five wiring devices in a single outlet, which means homeowners to connect their TV antennas and Ethernet cables, or control fans and dim lights for extra convenience.
Schneider Electric Online Marketplace debut comes against the backdrop of strong e-commerce growth in the Emirates. According to a 2022 report by Dubai Chamber of Commerce, the value of the UAE's e-commerce market is expected to reach $9.2 billion in 2026 as the government zeros in on efforts to build a competitive digital economy.