01st February 2021, Dubai, UAE: SecureLink, the Trusted Risk Advisor in the META region and the British University in Dubai (BUiD) has entered into an agreement to empower cyber professionals accelerate their career paths with advanced cybersecurity qualifications.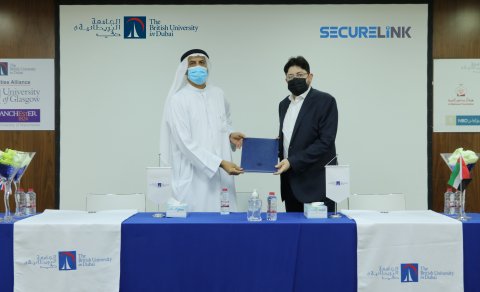 BUiD, in affiliation with well-known universities in the UK is known for providing world-class education with high standards of training and research facilities to students and aspiring professionals in the Middle East.  All their courses contribute towards technological innovation and are accredited by the UAE Ministry of Education, making them the right choice for someone who is aiming for a successful career move.
Under this alliance, cyber pros – be it experienced, or freshers can get hands-on experience and can excel in the below-mentioned domains that are prudently mapped and developed to comply with the NIST NICE framework.  Thus, enabling candidates enhance their cybersecurity skills across multiple spheres as well as provide enterprises with professionals with the right skillset.  These certifications are offered by BUiD in collaboration with Phase 2 Advantage and SecureLink:
Certified Cyber Incident Response Manager (C-CIRM)
Certified Cyber Security Operations Manager (C-CSOM)
Certified Disaster Response and Recovery Manager (C-DRRM)
Certified Network Forensic Analysis Manager (C-NFAM)
Certified Network Infiltration & Assessment Specialist (C-NIAS)
Mahmoud Nimer, President, StarLink Group commented that, "Lack of skilled cybersecurity professional puts an organisation at high risk. Most organisations opt for 'on-the-job' cybersecurity work experience which may not be sufficient to keep up with the evolving and complex nature of cyber threats.  Our association with BUiD is aimed at building a new breed of highly skilled cybersecurity workforce to enable organisations become cyber-resilient".
To that he also added that, "Investing in your very own security teams is definitely a cost-effective way of sprucing up an organisation cybersecurity environment.  So, along with increasing the security budgets, a mindful allocation for trainings should also be taken into consideration".
BUiD's Vice Chancellor, Professor Abdullah Alshamsi, said, "BUiD is a research-based university, designed to contribute to the technological innovation and socio-economic development of the Arab world and beyond. Through our partnership with SecureLink, we will be offering different types of cybersecurity certifications which will enable professionals to enhance their level of experience and provide them with the necessary skills needed to succeed".