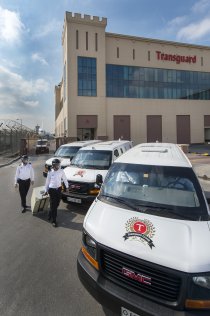 Transguard Group, an Emirates Group company, has acquired the assets, customers and a majority of the employees of Abu Dhabi-based G4S Cash Services LLC – UAE. The financial terms were not disclosed.
"Since its beginning, Transguard has been a major part of Dubai's economy and its service offerings have helped the UAE grow," said His Highness Sheikh Ahmed Bin Saeed Al-Maktoum, Chairman and Chief Executive of Emirates Airline and Group. "Today's announcement is a reflection of Transguard's hard work and dedication to continually improving the performance of the country's cash sector."
Established in 2001 with four cash vans and a single banking customer, today's acquisition positions Transguard Cash as the most prolific member of the country's cash management sector: Under the terms of the agreement, more than 540 employees, 74 cash vans, the Abu Dhabi Cash Centre and all other assets of G4S Cash have been acquired by Transguard.
"The acquisition of G4S Cash will allow Transguard to further drive value for the banking and financial sectors of the UAE by making cash management smarter and more cost effective," said Dr. Abdulla Al Hashmi, Chief Executive Officer.
As of 20th December, Transguard has taken ownership of all business activities of G4S Cash Services, including ATM replenishment, ATM First Line, Cash in Transit, teller services, car park meter services, cash distribution and cash processing, coin processing and ATM residual processing and packing.
"The sale of the UAE cash business is part of the Group's portfolio management programme announced in 2013," said G4S regional CEO, Europe and Middle East, Graham Levinsohn. "We have worked closely with Transguard to ensure a smooth transition with no interruption in services to customers. The acquisition will not affect the other services we provide in the UAE."
"We're taking every opportunity to ensure that all of our customers, not only those we're acquiring from G4S, have the opportunity to enjoy the Transguard experience of customer service," said Greg Ward, Transguard's Managing Director. "Our key focus is on transitioning the new customers into our operations in a seamless manner and providing opportunities to new customers to integrate their current cash services requirements with other Transguard services."