Tahawultech.com's Deputy Editor Daniel Shepherd reviews audio specialist Sennheiser's new pair of professional headphones for mixing, editing, and mastering.
The HD 400 Pro were designed by Sennheiser as a companion product for audio content creators looking for precision sound reproduction to help assess their audio mixes. The unit came bundled with both a coiled and straight detachable cable, granting the headphones a degree of adaptability to different user preferences.
What immediately becomes apparent, even to the uninitiated, is the open-back design of the HD 400 Pro with soft velour ear pads. It is easy to imagine long periods of time spent mixing or editing with these headphones on and not experiencing the slightest discomfort.
Now let's take a closer look at the specifications of the device in question:
Designed for accuracy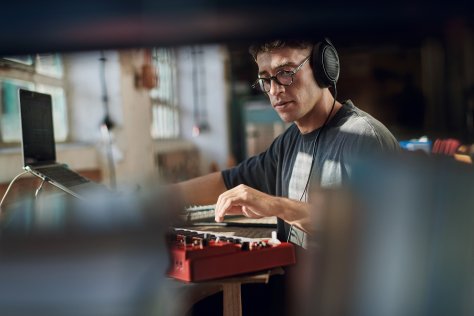 Now the technical specifications of these headphones are what many of the diehards will be interesting in reading about. The HD 400 PRO features a wide frequency response of 6 to 38,000 hertz which in practise gives music producers a thorough accounting of their mix. The Sennheiser-developed 120-ohm transducers include a diaphragm made from a special polymer blend, which together with powerful driver magnets yields deeper, yet totally clear and well-defined bass. Distortion is below 0.05%.
The HD 400 PRO accurately reproduces audio beyond the audible frequency range, giving you the unbridled access to nuanced harmonics and ambiance in your music, while at the same time revealing a bold, articulate low-end.
Designed for spaciousness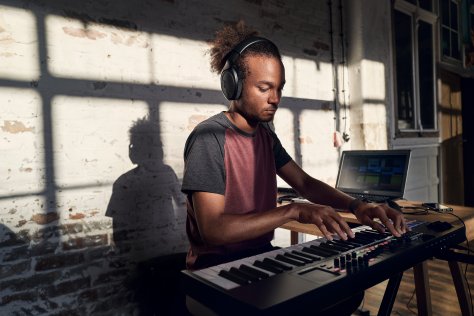 N0w when discussing audio devices, we inevitably come to matters of sound propagation and acoustics. The headphone transducers of the HD 400 PRO sit at a slight angle, which result in what many would consider to be the optimum triangular listening position without the need to stand in-front of studio loudspeakers. Additionally, the previously mentioned open-back design of the HD 400 PRO ensures a natural propagation of sound, unimpeded by the acoustic structures required in closed-back designs. When combined, both aspects create a wide and spacious soundstage, neutral and transparent, which enables audio producers to work confidently with the knowledge that their mix will translate accurately to listeners.
Part of Dear Reality's monitoring plugins
Compatibility is a big factor with audio devices, thankfully the HD 400 PRO can be used with Dear Reality's headphone monitoring plugins, which create a virtual mix room with carefully designed acoustics thanks to advanced spatial audio technology. The headphones have already been integrated into the Spatial Headphone Compensation feature in dearVR MIX; dearVR MONITOR integration will be released by the end of this year.
The Verdict
Without a doubt the HD 400 Pro is a worthy addition to Sennheiser's family of audio devices, with added attention to technical detail and an increased focus on user comfort.
The Pro ticks all the right boxes for audio engineers, mixers and musical maestros seeking to achieve that professional sound. Its laser focus on accuracy and spaciousness cannot be understated nor its compatibility with monitoring plugins.
Overall the Sennheisr HD 400 Pro is a superb headset that surpasses the needs of professional mixing or mastering and is not without merit in the attention to comfort paid by its physical open-back design.
Price: AED 999 inclusive of VAT. (Specifications will vary according to local market conditions and consumer preferences)
Available at: Availability will vary according to local market conditions and consumer preferences.
Technical data:
Acoustic principle: dynamic, open
Ear coupling: circumaural
Frequency response: 6 – 38,000 Hz
THD: < 0.05% (at 1 kHz, 90 dB SPL)
Impedance: 120 Ω
Sound pressure level: 110 dB (1 kHz, 1 Vrms)
Connector: 3.5 mm (1/8") jack with adapter to 6.3 mm (1/4") jack
Weight: 240 g (w/o cable)