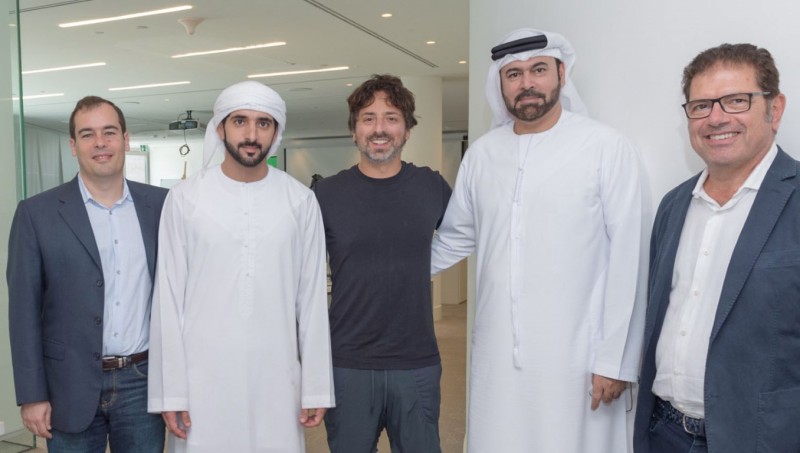 HH Sheikh Hamdan bin Mohammed bin Rashid Al Maktoum, Crown Prince of Dubai and Chairman of the Dubai Executive Council, has said that the emirate aspires to become the world's largest ground for testing new technology after meeting with Google co-founder Sergey Brin.
He also stressed that by cooperating with Google, everyone can make a difference to humanity for decades to come.
Sheikh Hamdan praised Brin's knowledge and scientific journey, which has been crowned with international success. "Sergey's story is inspiring, as he and his friend, Larry Page, founded Google from a dorm room and then a rented garage when they were in their twenties," he said.
He also said that young Arabs should look to learn from the experience of Brin and Page. "We call on the Arab youth to be inspired by Google's tale of creating exceptional success stories, and we are prepared, in Dubai, to provide all kinds of support for them," he stressed.
"Dubai aims to become the largest international laboratory to test future technology," Sheikh Hamdan added. "Dubai has advanced towards the future, due to the vision of the Vice President, Prime Minister and Ruler of Dubai, His Highness Sheikh Mohammed bin Rashid Al Maktoum, who realised the importance of building a society based on the knowledge economy and constructive investment in science and scientists, as well as connecting modern development with advanced technologies.
"We all share a passion to build the future. They (Google) created the future of human knowledge while we created a city that represents the future of urbanism and services for the other cities of the world," Sheikh Hamdan added.
With the attendance of Mohammad bin Abdullah Al Gergawi, minister of Cabinet Affairs and The Future and vice chairman of the board of trustees and managing director of the Dubai Future Foundation, Sheikh Hamdan and Brin explained the potential for cooperation with Google through joint projects that aim to harness the latest information technology and develop the electronic information space, to serve humanity in all areas.
Sheikh Hamdan also noted the importance of building strategic relations with international companies. "Developing mutual relations with major international companies is important to developing relations with major countries," he stated.
Brin and Page developed Google during their PhD studies in computer science at Stanford University in California, where they programmed a search engine that chose results based on the most popular searches and browsed pages, based on the idea that the most popular pages would be the most beneficial.