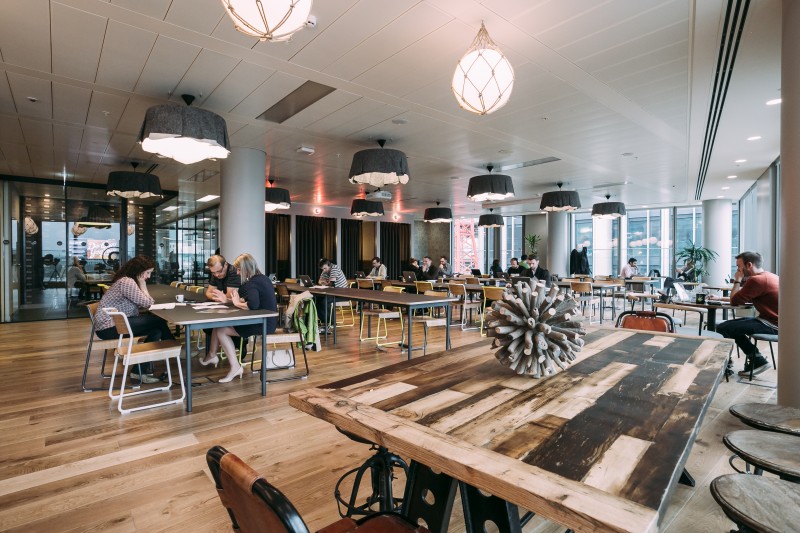 Japan's SoftBank and its Saudi Public Investment Fund-backed Vision Fund have agreed to invest a combined $4.4 billion into New York-based shared-office provider WeWork, in one of the largest single investments into a private company on record.
The deal is divided into two portions with roughly $3 billion going to buy new and existing WeWork shares via the $93 bilion Vision Fund, which also includes a $15 billion stake from Abu Dhabi's Mubadala Investment Company.
The move values WeWork at roughly $20 billion including the new funds, according to people close to the two sides.
WeWork's tenants include companies such as Microsoft, Axa and Bank of America as well as start-ups and mid-sized companies. It has 212 locations in 52 cities but has focused heavily on its home city of New York and on London.
SoftBank will also invest another $1.4 billion in a series of newly created Asian joint ventures with WeWork as the Japanese conglomerate looks to fund the group's expansion in China, Japan, South Korea and elsewhere in Southeast Asia.
SoftBank CEO Masayoshi Son said, "WeWork is leveraging the latest technologies and its own proprietary data systems to radically transform the way people work."
Founded in 2010, WeWork leases properties from landlords and offers flexible desk deals to its members, which range from start-ups to corporates.
It caters for about 150,000 members in co-working spaces around the world. Its financial data are private, but last year documents leaked to Bloomberg suggested the company had cut its profit forecasts for 2016 to $14m from $65m.
It expects to generate $1 billion of revenue in 2017, according to a person close to the company.
Co-founder and chief executive Adam Neumann said the new funding would allow for "even more opportunities for creators as we set out to humanise the way people work and live".
Two SoftBank executives who helped broker the deal will join the WeWork board: Ronald Fisher, its director and vice-chairman, and external director Mark Schwartz.
While WeWork's model is a variant on that of the traditional serviced-office provider, it has attracted investment from technology-focused venture capitalists such as Benchmark Capital, which has also backed Uber and Twitter.