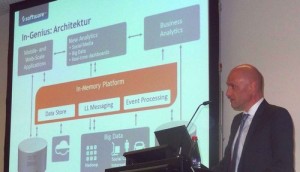 Software AG said on Monday that the new Version 9.0 of its webMethods server suite will bring in-memory capabilities to the Enterprise Service Bus (ESB).
The announcement was made ahead of the CeBit trade show, at an international press conference held on the show's grounds.
The vendor said that webMethods 9.0 is the industry's first in-memory enabled ESB on the market, and it will be available by Q2.
The new version of the platform focuses on integrating big data from any source, applications from the mainframe to the cloud, and also provides support for mobile devices.
Software AG said that this allows customers to access huge amounts of data and distribute the relevant information to the relevant party on any device, providing a new level of business responsiveness.
The vendor announced webMethods CloudStreams, a new product that allows customers to efficiently integrate SaaS applications, such as Salesforce.com, with other on-premise and SaaS applications, governing their integration.
"With CloudStreams, we give customers the possibility of installing webMethods on the Web," said Wolfram Jost, CTO, Software AG. "This will also allow the linking of public and private clouds to handle seasonal workload peaks."
The webMethods platform is now "tightly" integrated with its Terracotta business unit's BigMemory in-memory technology. Version 4.0 of BigMemory was also announced on Monday, with the firm showcasing integration with Hadoop, support for Java 7 and the ability to deliver up to 60-percent faster data access, Software AG said. BigMemory is available now.
In terms of mobile capabilities, Software AG said that the new webMethods Mobile Suite provides  a "high level" of security for interactive mobile applications. The firm claimed that organisations can now quicly build and distribute mobile applications, allowing only authorised users and devices on their networks, which prevents malicious threats.
Employees, customers and trading partners will be able to interact with the company's IT systems from anywhere in the world with Mobile Suite, Software AG said.
The firm also announced webMethods Infostreams, which brings real-time information and event streams to the right stakeholders, enabling collaborative actions and responses. Software AG claimed that this can be done instantly, regardless of location or device.
Our online editor, Tom Paye, is at the CeBit show until Wednesday afternoon. To contact him, email tom@cpidubai.com.