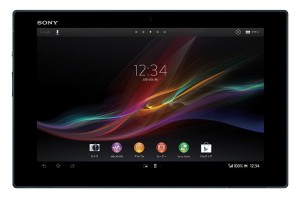 Sony on Monday expanded its portfolio of Android-based products with the Tablet Z, which is thinner and lighter than competing products from Apple and Google.
This year, tablet shipments are expected to total more than 240 million units worldwide in 2013, exceeding the 207 million laptops that are projected to ship, according to NPD DisplaySearch, and Sony wants a piece of that market as it looks to integrate smartphones, tablets and TVs.
The Tablet Z was announced just two weeks after Sony presented the Xperia Z smartphone at CES, and, just like that product, the new tablet has a competitive specification.
It is powered by a quad-core 1.5GHz processor, has a 10.1-inch screen with a 1920 by 1200-pixel resolution and an 8-megapixel camera.
But what will help the product stand out is its thickness and weight. It is 6.9 millimetres thick, which compares to Apple's latest iPad, at 9.4 millimetres, and Google's and Samsung's Nexus 10, which is 8.9 millimetres thick. At 495 grams, the Tablet Z is also lighter than the other two tablets, which weigh from 652 grams and 603 grams, respectively.
Networking options will include LTE, but Sony failed to detail what frequency bands it will work in. Just like many of Sony's recent mobile devices, there is support for NFC, too.
The launch of the Xperia Z and Tablet Z marks the proper beginning of a new Sony, where both smartphones and tablets have been developed in-house, following the acquisition of Ericsson's stake in Sony Ericsson, according to Ben Wood, Director of Research, CCS Insight.
"This product is interesting to me because it's an essential component of Sony's multiscreen strategy, and as a consumer electronics vendor, Sony needs to have a coherent story across all screen sizes, phones, tablets and TVs," Wood said.
Beyond availability in Japan, Sony did not reveal where the product will go on sale, at least for now. The company also stayed quiet on what the Tablet Z will cost when it does launch.