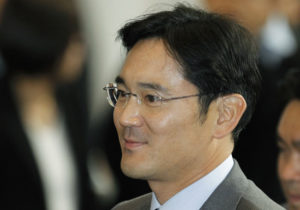 Prosecutors are seeking an arrest warrant for Samsung Group's Jay Y. Lee, following allegations including bribery and embezzlement, according to Bloomberg.
Samsung is now facing its second crisis in a matter of months, after it was forced to pull the Note 7 smartphone off the market because devices around the globe caught fire.
Lee has been groomed for decades to take over the company from his father, Samsung Group chairman Lee Kun-hee.
The de facto head of the Samsung Group and vice chairman of Samsung Electronics Co., has been accused of participating in payments that Samsung made to a close friend of South Korean President Park Geun-hye in exchange for government support in the company's succession planning.
A court will still have to determine whether to approve the warrant, which was announced by prosecutors in a briefing on Monday. A hearing is scheduled for Wednesday.
A special prosecutors' team was established in December to investigate whether Samsung and other business groups contributed money to Choi Soon-sil, the Park confidant, in exchange for political favours.
President Park has been already impeached and her powers suspended. Samsung shares fell as much as 3 percent following the announcement.
"We believe that there was an illegal request made by Samsung in facilitating the process of business succession," Lee Kyu-chul, a spokesman for the prosecutor's office, said in the briefing.
The total amount of bribes and promises made by Samsung is alleged to be about 43 billion won ($36 million), Lee said.
Prosecutors are also probing three other Samsung executives, including corporate strategy office vice chairman Choi Gee-sung, president Chang Choong-ki and Samsung Electronics president Park Sang-jin.