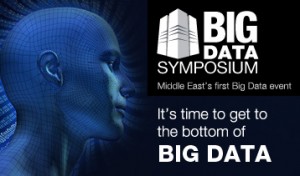 The IT directors of Gulf Air, Drake & Scull and Al Safeer Group will be amongst the keynote speakers at the Middle East's first Big Data event, it has been revealed.
Big Data Symposium – which takes place at Habtoor Grand hotel in Dubai on May 20th – will gather senior level IT executives from across the region to learn more about the most hyped, yet perhaps least understood, technology trend of 2013.
Whether they be enthusiastic, dubious or just plain curious about the technology, attendees of the event will be provided with the Middle East's first platform to really understand more about its components amongst their peers and those already leading the scene.
Gulf Air is one of the first implementers of Big Data in the Middle East, and attendees of Big Data Symposium will be treated to a keynote from its Director of IT, Dr. Jassim Haji.
Dr. Haji will be joined by the Corporate IT Director of Drake & Scull, Terence Sathyanarayan, and the CIO of Al Safeer Group, Kumar Prasoon, to give their unique views on the trend.
Meanwhile, Federico Mariscotti, Director at A.T. Kearney, will provide a consultant's view on how Big Data can fit into business strategy, and Mohammad Al Hassan, System Developer at Abu Dhabi Police, will talk about using Big Data for crisis management.
Making up the agenda will be short workshops from three of the leading players in the Big Data game – HP, EMC and Cognizant – before previous speakers are joined by more Big Data experts for an interactive panel discussion.
As a first-of-its-kind event in the Middle East, Big Data Symposium hopes to provide clarity for IT executives on exactly what the technology can do for their organisations, said Ben Rossi, Editor, Computer News Middle East, which is organising the event.
"There is nothing that has captured the attention of the IT industry more in the last year than Big Data," Rossi said. "But yet through our conversations with the region's top CIOs we have learnt there is still an enormous amount of confusion about exactly what it is and how organisations can embrace it to generate strong ROI.
"There is no doubt that Big Data is one of the biggest disruptors of business going forward and, with that in mind, we thought it was about time we jumped ahead of the pack to present the first event in the Middle East to focus entirely on it. We have brought together a list of top speakers from the industry to cut through the hype and help us really get to the bottom of the technology."
You can register to attend Big Data Symposium for free – and also see a full agenda – by clicking here.