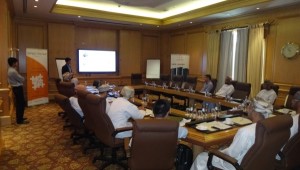 Value-added distributor Spectrami held a Muscat workshop in conjunction with Tenable Network Security which addressed a variety of security concerns.
TechCafe' covered real time security concerns, advance threats, vulnerability and compliance issues faced by various enterprises, and the increase in the level of sophistication and advancement in IT security attacks.
Zubair Chowgale, Solutions Architect, Spectrami gave a presentation on the latest trends affecting the security environment in the industry.
He also gave a live demonstration on Tenable to all the participants and provided a dashboard view of all security vulnerabilities, configuration and compliance failures, and propelling workplace productivity while reducing risk.
Anand Choudha, Managing Director, Spectrami, said, "Tenable is a perfect solution for enterprises, which have been struggling to keep up pace with security threats and compliance. Enterprises in Oman can now discover vulnerabilities and security issues on the fly even when they aren't running active vulnerability scans.
"We are encouraged with the response that we received for this TechCafe' and the feedback has reinforced our belief in providing the best of the breed technologies that can address the challenges faced by enterprises. We intend to take TechCafe' to other countries like Qatar, Kuwait and others as we move forward."