Wednesday, 20th January 2021 – Dubai, UAE: StarLink, the Trusted Cyber and Cloud Advisor in the META region shared their experiences and successes during the unprecedented and tumultuous pandemic in 2020.  Also announced their strategic 2025 Roadmap at the virtual 2021 Sales Kickoff on 14th January.

Last year has gone down history in many ways and as organisations strove to adapt to the 'New Normal' they have learnt to survive, to be prepared for any uncertainties, and become resilient.  It was no different for StarLink. Despite the volatile circumstances throughout the year, StarLink has emerged stronger than ever and closed 2020 with a double-digit growth compared to 2019.
Many organisations faced disruptions in their business operations due to the crisis which -on the positive side, aided in accelerating the digital transformation journey and unlocked numerous opportunities. StarLink joined hands with vendors to collectively support enterprises with their business continuity requirements.  At the same time, they also continued to strengthen their solutions portfolio with new strategic vendors especially with technologies that supported remote connectivity and enhanced application performance and security. Their adaptive Go-to-Market strategy facilitated innovative ideas and multi-vendor events into fruition ensuring continuous customer and partner engagement.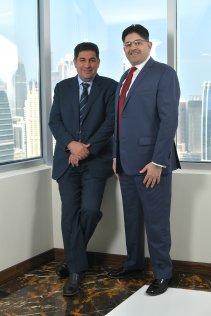 Zaidoun Arbad, COO, StarLink said, "Challenges unlocks the true potential of people and organisations. We closed 2020 on a positive high and see tremendous opportunities in 2021 and beyond. We wholeheartedly recognise the outstanding efforts of our teams and thank our vendors, partners and customers for their continuous loyalty and trust. As part of our 2025 Roadmap, we are working towards an IPO and new structural changes within StarLink where the cofounders Nidal Othman and Mahmoud Nimer have assumed the position of CEO and President, respectively.  In line with our 2021 theme 'StarLink Connect', we will be engaging and empowering our teams and our stakeholders with business intelligence that will help transform data into actionable insights and together we will build a robust growth strategy".
"We are all set to embark on a new journey with a long-term vision and Roadmap. StarLink is driven by strong values, robust vision, and mission as well as strategic goals at every stage of the 5-year plan which will be assessed timely for necessary advancement". said Mahmoud Nimer, President of StarLink.  He added that "StarLink is people centric and we are heavily investing in our teams to support our rigorous expansion plans. StarLink Technology Leadership is one such initiative which encourages our salesforce to invest in enhancing their subject-matter expertise in their respective domains, through adequate sales trainings to become ready for 2021 and beyond".
Nidal Othman, CEO, StarLink commented that "Our vision is to continue to reshape the distribution landscape through innovation powered by business intelligence. We foresee a ground-breaking technology landscape rebuild and are ready on all fronts to support our customers, vendors, and partners – be it cutting-edge solutions, skilled expertise, or market coverage.  As always, we aim to deliver best-of-breed technologies to our customers, and I am excited to announce that we are introducing a brand-new business unit to support this new era of StarLink's evolution as an innovative and disruptive solutions VAD.  More details will be revealed as we course through the year".