Dubai, 18 December 2021: stc was awarded the first place in the enterprise agility award 2021 for its best application that provides solutions for companies, for the internal communication application "HUB" during the awards ceremony that was held recently in Dubai.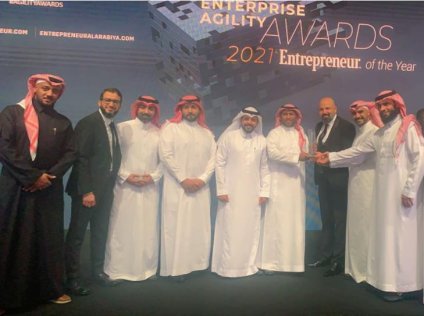 stc's HUB application was crowned the first place as the best internal communication application, achieving the diamond plate of the Entrepreneur award 2021, after competing with a number of competing applications from international companies in the Middle East. The competition revolved around the most suitable applications for work environment that require diversity in the characteristics of its internal applications and the speed of its renewed response to provide a digital communication environment.
The HUB application is designed internally with the best international practices that provide various services to employees, including employee self-service, task management and follow-up, and human resource operations.
stc's win reflects the excellence of the internal work environment, which aims to make the group a "model of excellence" in its internal applications in human resource management by providing a flexible and innovative digital experience for employees, which is reflected in enhancing their productivity.