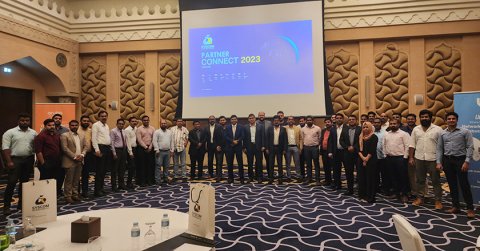 Syscom, a leading System Integrator and IT Consultant in technology solutions, proudly announces the successful conclusion of Syscom Partner Connect 2023, held in the vibrant city of Doha, Qatar.
This highly anticipated event brought together the regional partners of Syscom for an insightful and collaborative networking day. Syscom Partner Connect 2023, held on 21st September, featured a dynamic lineup of keynote speakers, engaging interactive quiz sessions and exciting networking opportunities. The event was hosted at the luxurious Sharq Village Resort & Spa, a Ritz-Carlton Hotel, situated in the heart of Doha, providing attendees with a stunning backdrop for inspiration and collaboration.
Highlights of Syscom Partner Connect 2023:
Keynote Presentations: The event included presentations on Aruba's Wireless and Switches portfolio, sharing insights into the latest technology trends and their vision for the future. Their presentations captivated the audience and inspired innovation.
Networking Opportunities: Syscom Partner Connect 2023 facilitated meaningful connections among attendees, fostering partnerships and collaborations that will shape the future of technology.
Syscom is committed to staying at the forefront of technological advancements, and Syscom Partner Connect 2023 demonstrated our dedication to empowering businesses with the tools and knowledge they need to thrive in today's digital landscape.
Mr. Hamid Ansari, Managing Director of Syscom, expressed his enthusiasm about the event, stating, "Syscom Partner Connect 2023, Qatar has been an incredible success. We are honoured to have brought together such a diverse group of partners, and we look forward to the collaborations and innovations that will undoubtedly emerge from this event".
Syscom would like to extend its gratitude to all attendees, partners, and speakers who contributed to the success of Syscom Partner Connect 2023. Their participation and dedication to advancing technology solutions have made this event a resounding achievement.
For more information about Syscom please visit www.sysllc.com