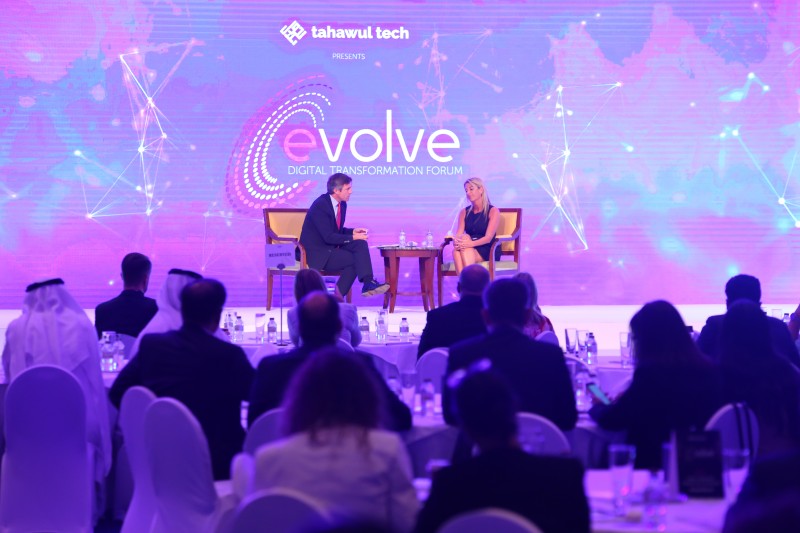 CPI Media Group, via its leading technology news platform Tahawul Tech, hosted its first ever Evolve Digital Transformation Forum at Jumeirah Beach Hotel in Dubai.
The Forum focused on the top three priorities around the Middle East's technology agenda: the government's race to innovate, the transformation of online purchasing and the need for investment in regional technology.
Gathering 300 c-level executives and business and technology decision-makers, Evolve framed how the GCC now finds itself at a crossroads in its overall approach to technology.
Evolve kicked off with a one-on-one interview with founder, chairman and CEO of The Entertainer, Donna Benton, who discussed how the company she launched in 2001 has transitioned from being a paper-based book of two-for-one vouchers into a purely digital platform that is keeping customers across the world hooked with tailor-made offers.
Benton discussed how The Entertainer has become an information-driven company that is committed to gaining a better understanding of its customers. "Data is absolutely critical to us," she said. "We're always looking at new ways that we can enhance our platform in order to benefit our customers across all the markets we serve."
Benton was followed by MENA Catalysts CEO Sam Blatteis, who discussed the "changing rules of the game" in the Middle East and North Africa's technology industry. "The Middle East has 170 million Internet users – more than the population of Russia," Blatteis said. "The region's e-commerce industry has reached the $20 billion mark, which is more than in India."
He went on to say that the UAE is only at the beginning of its technological journey, and must look to enhance several key areas if it is to take the next crucial steps in its development as not only a regional technology hub, but also as a global one. "The main factors for success in a high-tech ecosystem are human capital, infrastructure, SMEs, R&D and the appropriate laws," Blatteis added. "The UAE needs to focus on developing these key areas."
Evolve then moved into its first panel discussion of the day – which explored the next steps the government needed to take in its race to innovate. Comprising Blatteis, Wajdi Ghoussoub, associate director, Middle East Venture Partners; Daniel Dos Reis, senior portfolio manager, Dubai Silicon Oasis Authority; Heba Bilal Al Shehhi, head of user support, Dubai Municipality and Bernd Ludwig, business technologist, Micro Focus EMEA. The discussion tackled the issues of how public sector organisations can enable a culture of innovation, and how they can successfully adopt new technologies without exposing themselves to unnecessary risk.
The next speaker of the day was Ulrich Pfeiffer, Micro Focus EMEA's regional chief technologist, who discussed what he believed were the four crucial areas that organisations needed to home in on in order to successfully digitally transform. "Organisations need to focus on several areas," he said. "Digital user experience and service assurance, agile enterprise service delivery on hybrid clouds, end-to-end application and data security and Big Data analytics and predictive 'anything.'"
The day's agenda then confronted arguably the hottest topic of Middle East technology in 2017 – e-commerce. Following Amazon's acquisition of Souq.com and the successful launch of $1 billion platform Noon, the region has experienced increasing excitement around the rise of online purchasing, but work is still to be done. Bayt.com co-founder and CTO Akram Assaf; Yallacompare CFO Jonathan Rawling; MBME CEO Ali Kassab; Sellanyhome.com co-founder and CEO Omar Chihane and Telr.com co-founder and CEO Sirish Kumar combined on the day's second panel discussion.
Chihane said, "The real differentiator in the coming years will be the ways that e-commerce platforms drive experience across physical and digital channels. Brick and mortar retail will not die out, but online platforms have the power to access a global audience, which represents a massive opportunity."
The day rounded off with a third panel discussion, which focused on the region's technology investment industry, and what needed to be done to encourage homegrown technology within the Middle East. The panel featured Steve Mayne, managing director, Creative Zone; Erkki Aaltonen, executive director, startAD; Fathi Al Sharaf, CTO, Geeks and Trukkin CEO Janardan Dalmia.
Aaltonen highlighted how regional investment was focusing on alternative industries, and that start-ups were often left short of funds as a result. "There's a serious lack of funding for tech start-ups," he said. "There's only a handful of venture capital firms in the Middle East that invest in technology."
CPI Media Group's publishing director Natasha Pendleton said, "Dubai Internet City was established in 1999 to give a regional home to some of the world's top technology companies. Eighteen years later, that focus has now shifted to how this incredibly exciting part of the world not only imports technology, but develops it organically within its own borders.
"The raw materials are undoubtedly there to build the Middle East into a global technology hub, and Tahawul Tech's Evolve Digital Transformation Forum is the definitive platform for exploring just how the region can deliver this critical economic shift."