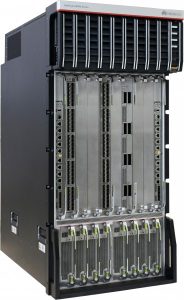 At GITEX 2017, Huawei has launched the 400G DCI solution and Petabit Router NE9000, which enables the rapid migration of massive amounts of data between data centres and eliminates bandwidth-related bottlenecks, improving bandwidth utilisation between data centres while reducing power consumption in equipment rooms. The company said it will greatly facilitate Middle East enterprises as they strive to smoothly evolve their data centre networks over the next 10 years.
Huawei's 400G DCI solution features high-speed 400G interconnection technology in NE9000, along with intelligent global control based on the company's Agile Controller. The solution enables the efficient operation of enterprise cloud services and supports the evolution of network bandwidth; it also brings services online quickly while monitoring and adjusting network traffic in real time.
According to the firm, customers that select its solution can enjoy globally adjustable and controllable networks, a 50 percent improvement in bandwidth utilisation, and a reduction in operating costs.
The NE9000 is focused on high device density and energy efficiency, the defining characteristics of data centres. Its ultra-integrated industry first 4T router line cards offer energy savings of 50 percent, and the crucial issues of heat management for high-capacity boards and power consumption for devices are addressed through patented heat dissipation technologies including carbon nanotube thermal pads.
Alaa ElShimy, managing director and vice president, Huawei Middle East, said, "Considering the overall movement to the cloud that we now see in enterprise services, building ultra-broadband, intelligent, and energy-efficient DCI networks will be a necessity for bringing about cloud-and-network synergy in the future. Huawei's NE9000 for 400G DCI solution makes enterprises and service providers ready to achieve commercial success in this future by helping them push forward the innovation of their services and move to the cloud more quickly. All of this is a step forward in the path to digital transformation in the Middle East, and helping governments achieve the targets outlined in their national visions."