The Storage Division of Toshiba Gulf, the regional subsidiary of the Japanese digital and storage giant Toshiba, honoured top performing distributors, retailers and resellers in the Middle East and Africa region at its annual Toshiba STARS Award event.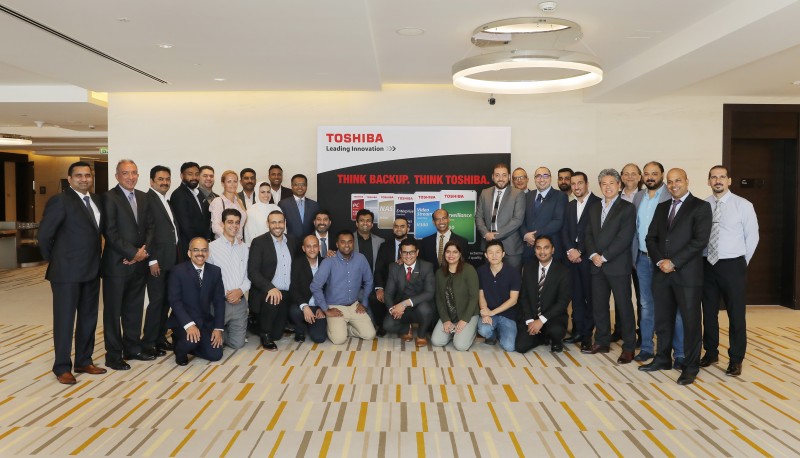 The Toshiba Stars Award event was held at MonaLisa Yacht in Dubai Marina Promenade on 7th May and was attended by distribution, retail and dealer channel partners.
The event honours each business unit to top performers in the distribution, retail and reseller category. The award has three category, Gold, Silver and Bronze.
This year in the HDD distributor category, winners of the prestigious Gold Award  included Al Futtaim Electronics (UAE), Ashtel (UAE and KSA); Mitsumi Distribution (East & West Africa), and Mustek Limited (South Africa). Jarir Book Store (KSA), Carrefour (UAE) and Lulu (GCC) were winners of Gold Award in Retail Partner category. Global Computers (UAE) won gold for top performance as a reseller.
Santosh Varghese, Vice President & General Manager–MEA, Toshiba Gulf, said, "During the FY -17 Toshiba MEA region had a phenomenal growth in the storage segment, mainly HDD with year on year growth exceeding 48 percent. Our record sales growth in 2017 is a result of our excellent product and channel sales strategy.
"Toshiba HDD recorded a very high market share of 31 percent per cent in the UAE and 52 percent in Saudi Arabia. The overall MEA market share was 30 percent. We had a 72 percent YoY growth in Africa region. Our 'Go Wide, Go Deep' strategy and 'Go Africa' strategy helped in market expansion across Africa," he added.
Toshiba STARS award was part of Toshiba's annual MEA Distributor Conference for Hard Disk Drive held in Dubai on 7th May 218 at the Hyatt Regency Creek Heights. The annual Distributor event was attended by 22 distributors across Middle East and Africa region.
At the distributor event Toshiba launched its new branding campaign "Think Back Up! Think Toshiba!''   During the event, Toshiba also unveiled a new range of colour-coded internal drive offering higher storage capacities, low power management or extreme performance for high-intensity gaming and applications. Highlights of the product launch was the World's 1st 14TB Capacity CMR HDD with the Helium Sealed design for better Power efficiency (50 percent power saving W/GB)