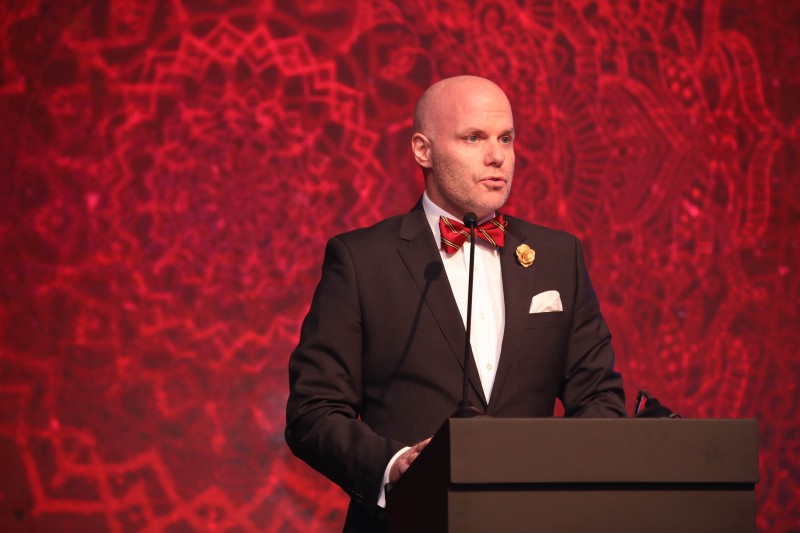 Over 250 technology industry stalwarts from vendor, distributor and reseller companies descended to Jumeirah Emirates Towers on Tuesday, 8th May 2018 for Reseller Middle East's ninth annual Partner Excellence Awards.
The event celebrated IT channel industry's achievements in leadership and innovation in accelerating the industry.
The Bollywood Glam-themed gala evening opened with a thought-provoking speech from CPI Media Group's managing editor Michael Jabri-Pickett.
In his speech, Jabri-Pickett talked about how technology has become an intrinsic part of people's everyday lives and why adapting to the digital age is crucial for businesses and individuals alike.
He also shared CPI Media Group's transformation journey and its vision to further support and enable IT players navigate the future.
Read his full speech below:
Good evening!
Technology.
It is as important to our daily lives as the smartphone that is glued to our hand.
In the UAE, whatsapp, Telegram and BBM Messenger – for those old-school techies amongst us – are lifelines to our families both in Dubai and around the world.
From the moment we wake up to the time we say goodnight, technology – in all its forms – is essential to help us do what needs to be done.
But technology is more than that. Technology actually brings us together; it gives birth to shared experiences.
From a coffeeshop in Toronto, to a Pachinko parlor in Tokyo, to a shisha cafe in Dubai, everyone can relate to that one universal question: "What's the WiFi password?"
In my position as managing editor at CPI Media Group, I want the editorial team as well as our readers to know that we are ALL in this together. We are partners trying to find our way towards a new tomorrow, an unpredictable future, a changing world. And CPI is a reflection of that change. 
In our newsroom in Tecom, we have transitioned to a digital-first editorial approach. Our goal is to post stories on tawahultech.com before the competition. We want to become the definitive source for tech news in the Middle East.
This week, Anish Mohammed, a cryptography expert and academic at Berlin University – when speaking about blockchain and the banking industry – was quoted by AFP as saying that the losers in the banking community will be those who fail to adapt to the latest technological trends. Quote: "There will be winners and losers, the losers will be those who do not make any changes," he said.
This attitude – I would argue – is true in all facets of business today. And the publishing industry is no exception.
CPI Media Group understands the challenges businesses face because we face them, too.
Technology is an adventure that we are trying to figure out. We look forward to navigating a successful course with you all.
Thank you!