UAE mobile operator EITC, has become the first telco to launch 5G mobile devices in the Middle East.
du has adopted a progressive strategy in relation to its 5G roadmap, and the availability of 5G-enabled devices from the operator is a big, big step towards its ambition to become the leading 5G player in the Middle East.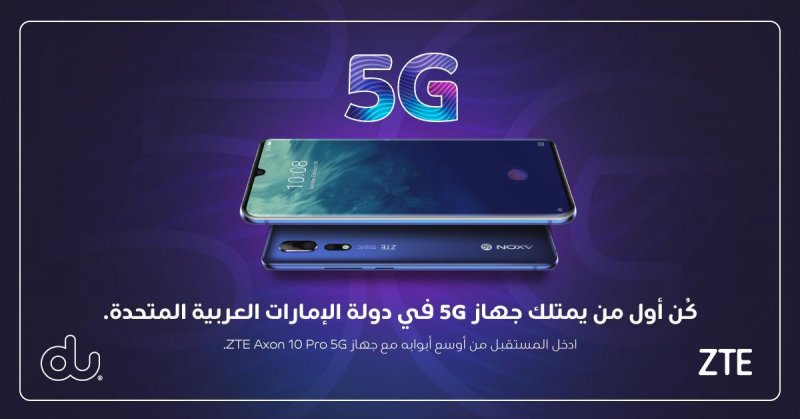 Next generation connectivity is now one step closer for du customers, and they will also be able to enjoy du's 5G network without any additional charges to their existing postpaid plans.
du has started selling the 5G-enabled ZTE Axon Pro 10 handset, with the company's portfolio of 5G devices expected to expand further over the coming weeks.
'5G journey comes to life'
Fahad Al Hassawi, Deputy CEO – Telco Services, EITC, said: "The 5G reality is here, which is why we are thrilled to be able to bring this revolutionary technology to more customers across the UAE. As the 5G journey gathers momentum, we are excited to be inspiring customers to achieve new possibilities as advanced connectivity becomes available in more places."
Al Hassawi also highlighted the economic benefits that 5G will bring to the UAE. He added, "As a foremost technology leader tasked with enabling digital transformation, we are committed to accelerating 5G adoption by providing advanced devices to consumers. The transformative potential of 5G will have a large social and economic impact on the country, and we are proud to be leading the evolution towards a faster, more connected future."
'Own your 5G device
5G-ready ZTE Axon Pro 10 devices are available to customers in the UAE through some of du's retail stores and the online shop. Additionally, devices are currently being distributed to customers who have preregistered their interest in owning 5G-ready devices.
du was the first to launch 5G demonstrations in the UAE through its experiential 5G showcases and suhoors throughout the month of Ramadan.
By preregistering and taking part in the demonstrations, customers became the first to experience the 5G network on ZTE's Axon Pro 10. The device was used to show consumers how they can unlock the full potential of the 5G network upgrade.
These experiential events fueled anticipation for 5G, with customers having the opportunity to register their interests in acquiring 5G devices. As a result of this, the first preregistered du customers received their Axon Pro 10 device as a gift from the company.
As du is in the process of adding new 5G sites, the company will not be charging customers any extra for the 5G service. This means they can use their 5G devices while enjoying new and existing benefits of their existing plans.