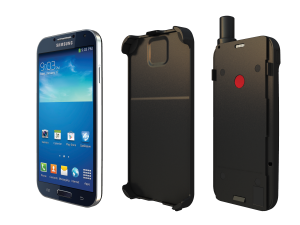 Mobile Satellite Services operator Thuraya has launched the latest edition of its SatSleeve, which allows Samsung Galaxy users to turn their own smartphone into a satellite phone.
Designed for Android-based smartphones, it is compatible with the Samsung Galaxy S3 and S4, and allows users to make phone calls, send SMS messages and access social media apps via Thuraya's satellite network when they are unable to connect to a terrestrial GSM network.
Users dock the Android smartphone into the SatSleeve and operate it normally via the Thuraya Satellite network.
It has a built-in SOS button which allows users to call one predefined number, and is functional when the smartphone is not attached.
Randy Roberts, Vice President, Innovation, Thuraya, said, "This latest release of the SatSleeve illustrates Thuraya's focus on market needs by addressing the installed base of Android devices and enables us to provide easy access to satellite services for our Android customers. Thuraya is progressively working to provide our users with flexible choices for their satellite communication needs when they are travelling or working from areas unserved by terrestrial networks. Whether our customers need connectivity through voice or data services, we are there to keep them connected."
Thuraya's satellite product lines are available in three forms: Land Mobile, Thuraya's SatSleeve offering, primarily aimed at consumers; Land Data, which is ideally used in industry; and Maritime, best-suited for shipping voyages.
"We're aiming SatSleeve across several main verticals: oil and gas; disaster relief; and breaking news organisations," Roberts added. "This product has the power to change people's lives, be it in the form of preventing economic or environmental catastrophe in the oil industry, and in providing essential aid to victims of natural disasters, as it has done for victims of Typhoon Haiyan in the Philippines.
"Not only that but given that Tharyan has over 350 roaming agreements worldwide, with satellites in 160 countries, it's a given that wherever you are in the world SatSleeve will guarantee a phone signal. The Middle East market is the largest in the world for satellite phones, and we aim to target sectors including government, military and media."
The SatSleeve is priced between $650-$750, with operation costs varying across providers, with pay as you go and limitless contracted packages available.