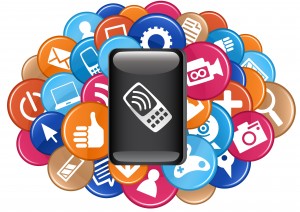 A regional expert in Mobile Apps development and marketing has revealed that mobile apps have surpassed web usage in terms of time spent, but marketers in the Middle East are still not taking mobile apps as seriously as their international counterparts.
Shadi Hasan, MD, Flagship Projects, a mobile apps developer in the MENA region, said, "Mobile apps have grown exponentially with the dramatic increase in smart phone usage. People in the UAE are spending more time on smart phones and less on computers. It is time marketers start realigning ways to engage with their stakeholders. If people are spending more time on smart phones, we should target such users via these devices."
According to Mobile app analysis firm Flurry, the average user now spends 9% more time using mobile apps than the Internet. In June 2011, users spent an average of 81 minutes daily on mobile apps, compared to 74 minutes on the web. This compares to 66 minutes on mobile apps daily in December of 2010, and 70 minutes spent daily on the web, Flurry said.
Hasan added, "With the mobile apps beating web usage, there is a clear message to Middle East branding experts if they want to sustain their brand equity or reinforce their brands. This is also a motivation for apps developers to enhance their readiness to garner more business. For end-users it is tricky to pick the high quality, and for marketers it is a challenge to create ways to convince consumers to choose apps out of the millions available in the market."
Hasan added that despite that importance of mobile apps, Middle East marketers and managers still undermine the strategic business and technical implications of developing mobile applications which will make them lag behind.
Worldwide, in terms of mobile application popularity, games and social networking are the most popular one rating much higher than news and entertainment, Flurry said.
Hasan added,  "The story is different in the Arab world. The bulk of usage of mobile apps in the Arab world pertains to entertainment, such as songs, social news, Al Quran and Islamic lectures, prayer times and Hajri timings."
Talking about the UAE, Hasan said that the country has captured 60% of the Middle East's smart phone mobile apps business, despite of its low population compared to more populated countries like Egypt and KSA.
Flagship is one of the providers of solutions for this rapidly expanding smart phone market. The company provides high-end smart phone platforms and develops applications for organisations seeking to execute products on mobile devices, according to Hasan. Flagship's applications target iPhone, Android, RIM, and Windows Mobile.