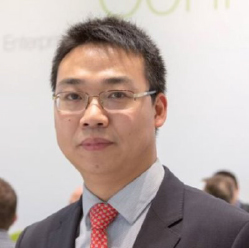 Networking solutions provider TP-LINK will be showcasing latest products and solutions and company updates and at the 35th edition of GITEX Technology Week.
Recently the vendor has announced the latest addition to its 11ac router line, the Archer C3200 Tri-Band Gigabit Wi-Fi Router. The Archer C3200 utilises Tri-Band technology with Smart Connect to meet the heavy networking demands of today's large homes and small businesses. The Archer C3200 operates at a combined speed of up to 3.2Gbps, with two 5GHz bands that reach up to 1300Mbps each and one 2.4GHz band that reaches up to 600Mbps, making it ideal for supporting a large number of wireless devices simultaneously.
"There is a limit on what a simple increase in bandwidth can do to improve the performance of Wi-Fi routers at home," said Justin Tu, Director, International Product Department, TP-LINK. "To continue improving the speed, reliability, and overall performance of our routers, we are utilising advanced technologies that allow them to serve connected devices with far greater efficiency."
The company has also introduced its first wireless 1900Mbps touchscreen display Wi-Fi router, the AC1900 Touch Screen Gigabit Wi-Fi Router – Touch P5, making it simple for even the most inexperienced users to tap into and take full advantage of their broadband networks. According to the networking product manufacturer, with the device's 1GHz dual-core processor and expansive coverage range, it is ideal for households looking to tap into a smarter connected home, and enjoy ultra-fast connectivity across multiple devices.
In addition to that, the firm has recently announced the release of its indoor business Wi-Fi solutions, the next installment of its highly successful EAP range of Wireless Access Points, EAP320, EAP220, EAP120 and EAP110.
Intended for small and medium business (SMB) environments such as offices, restaurants, campuses, and hotels; and providing support for key features such as EAP Controller and Real-time Operations Monitoring, the EAP range stand out as one of the most versatile and cost effective Wireless Access Point solutions on the market today, said the company.
"One of the main considerations for access points in the workplace is placement and flexibility," said Andy Chen, Director, International Business, TP-LINK. "Therefore, the EAP series was designed to be as compact and as versatile as possible to allow for easy installation and maximum coverage."
The company has also launched NC450, the latest in a robust line-up of cloud camera solutions that conform to your busy lifestyle by supporting easy, direct access. With the 'tpCamera' app, the company aims to make wireless surveillance for home and business users a hassle-free experience for people with all levels of experience.
The company's next set of launches include the Pharos series, a high performance enterprise class outdoor wireless solution, designed for long distance wireless backhaul, point-to-multipoint connections and outdoor Wi-Fi coverage solutions.
"With TP-LINK's next-generation of outdoor wireless backhaul solution – Pharos Series, our Wireless Internet Service Provider customers can provide broadband Internet access to millions of users," said Chen. "This will give the WISP the opportunity to evolve in a large and fast growing market."
At GITEX 2015, attendees will have an opportunity to experience the company's latest launches and learn about its recent developments as well as meet key executives.
"Come and meet our regional and global team at the show, who are keen to show you how together we can 'build reliable connected world' across industries," says Denny Liang, Vice President, TP-LINK MEA .