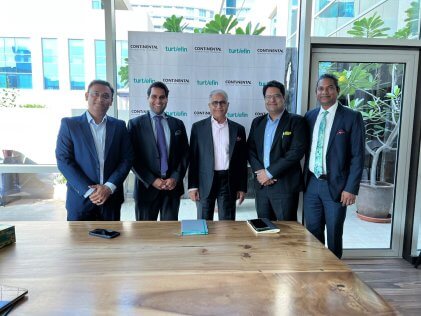 Turtlefin, India's leading Insurtech platform, has announced a partnership with The Continental Group, one of the leading insurance intermediaries and financial services solutions providers in the UAE. Turtlefin will provide its leading SaaS platform modules, enabling The Continental Group's distribution teams to access relevant information and seamlessly customise proposals for their clients.
Through this strategic partnership, Turtlefin will onboard new insurers on their cutting-edge platform to provide seamless access to the users of The Continental Group. This will lead to increased insurer participation bringing in more choices to clients to make the right decision on their insurance needs. The solution will bring significant operational efficiencies through the automation of proposal journeys, management reporting and dashboards, which will be accessible from a single source rather than multiple dependencies.
Speaking on occasion, Mr Amreesh Kher Chief Partnership Distribution Officer of Turtlefin said, "The Continental Group is one of the leading financial intermediaries in the UAE. With Turtlefin's seamless digital journey that we offer across multiple insurers, users at The Continental Group will save time on quotations and proposals, thus enhancing their sales efficiency". Adding to this, Mr Laxmikant Pawar – Head of MENA at Turtlefin said "This partnership is important for us as it re-affirms our belief in the Middle East markets' potential and will benefit The Continental Group's extensive distribution network".
Mr. Ashok Sardana, Founder and Managing Director of The Continental Group said, "We are delighted to partner with Turtlefin and are assured that Turtlefin's unique and customised technology solutions would help redefine how the insurance segment in the UAE is served. This alliance will provide us with the technological edge to advance towards improved consumer engagement and experience".
Turtlefin develops distinctive, tailored technological solutions that provide real value for institutional clients and allows their sales teams to offer insurance as a solution in an educated and effective way. TurtleFin's solutions will enable financial experts at The Continental Group to enhance their distribution capabilities with applications like Digital Prospecting, Learning and Skilling on the Go and paperless transactions.