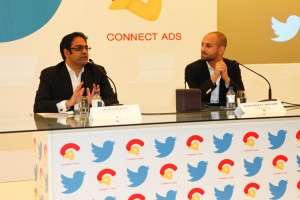 Twitter has officially launched business activities in the MENA region, unveiling a host of regional plans that will be completed in partnership with Connect Ads.
Connect Ads will act an extension of Twitter's own sales team in the Middle East, the two firms said. It will manage sales and develop the MENA markets through a series of education and training programmes for agencies and large advertisers.
Under the new agreement, regional businesses will soon be able to take advantage of one of three Twitter Advertising products, including Promoted Tweets, Promoted Accounts and Promoted Trends.
All of these products are already available in the United States, United Kingdom, Japan and Latin America, Twitter said, adding that the partnership with Connect Ads is in line with Twitter's strategy to build its international presence.
"Brands from a very wide range of industries and sectors in the region can now use Twitter to share and interact with their client base and the public, steer conversations and strengthen their message on Twitter," said Mohamed El Mahairy, Managing Director, Connect Ads.
"Twitter is about everything that is buzz-worthy, and companies recognise that they have with Twitter a strong marketing platform that can help create positive sentiment around the brand, support them in reaching a new audience and strengthen brand loyalty."
"Twitter is one of the most dynamic and engaging marketing platforms available on the Internet today," added El Mehairy. "In this era of digital communications, it is imperative for brands to adopt all methods available in the digital arsenal to receive maximum visibility and build a positive brand image.
"We believe Twitter's suite of advertising products will help brands grow wider and faster across the region."
Twitter referred to the Middle East as one of its fastest-growing regions. The growth has been bolstered by high-profile Arab users tweeting more prolifically, as well as the fact that the micro-blogging site allows Arabic speakers to tweet in their own language.
Indeed, the growth of social media in the MENA region is the highest in the world, according to a recent study by Deloitte, which said that digital media will more than double its share of the Arab world's advertising market by 2015.
The firm's Arab Media Outlook report also said that digital accounted for four percent of the total advertising spend in 2011. Deloitte expects digital to grow at a compound annual growth rate of 35 percent over the next three years, generating about $580 million across the region by 2015.