Freedom Pizza is once again changing the way customers order food with the launch of Apple Pay, via the Apple Watch. In October, the home-grown UAE pizza company announced that it had been selected to be part of Apple Pay's induction to the UAE, giving online and mobile app users another convenient and secure way to pay for its wholesome and organic menu items.
When rushing home from work or organising a night-in with friends, pizza lovers can order with ease by using the Freedom Pizza app on the Apple Watch. Customers can choose from a previous order before effortlessly tapping to securely pay via the watch's Freedom App. They can also use the Freedom Pizza order tracker on the Apple Watch, which will display updates on where the order is and when it will arrive.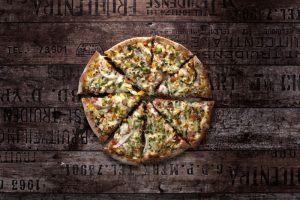 Freedom Pizza says there are on average between 300 – 350 orders placed via the app per day, which is around 90,000 per year. Users can simply download and access the app via the Apple store.
Freedom Pizza offers custom-made pizzas that can be modified to suit vegan and gluten free dietary requirements. The website and app offers nutritional information in regards to each product allowing its customers to not only check for the allergens, but also shows the exact number of calories, protein and sugar for each product. To make the process quicker and smoother, users can set up a dietary profile on the website or app, setting it to display only the gluten-free, vegan or vegetarian options.