Growdash, a UAE-based startup that empowers restaurants to build and execute profitable online growth strategies, today announced the closing of a US$750,000 pre-seed round of funding led by Flat6Labs.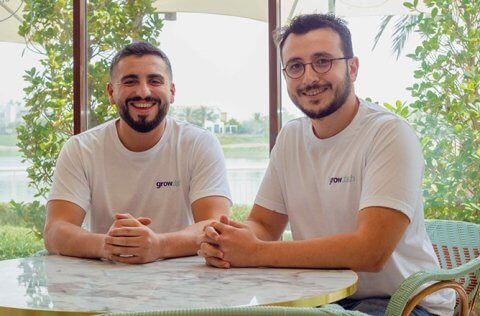 The round also included participation from Plus Venture Capital (+VC), Judah VC, TPN Investments as well as a distinguished list of angel investors, including former Talabat CEO, Abdulhamid Alomar, and serial entrepreneur, Zeid Husban.
In the hyper competitive regional F&B sector, the biggest challenges that restaurants face are realizing the full potential of online food delivery channels, maximizing their return on growth investments and achieving profitability on these platforms.
Recognizing the struggle of regional restaurants to access in-depth market data and insights that guide informed decision making, Talabat and Deliveroo alumni Sean Trevaskis and Enver Sorkun founded Growdash in 2022.
The company's mission is to help restaurants unlock the power of analytics and business intelligence to enable them to build and execute growth strategies that positively impact bottom-line profitability.
Growdash achieves this through a purpose built, in-house SaaS solution that connects the data points across a restaurant's pre- and post-order journey.
The company's platform has enabled highly popular brands such as Nandos, Wagamama, Kreative Restaurants & Co, Papa Murphy's, Malak Al Tawouk and others to increase the returns on their online advertising efforts by over 800 percent, whilst simultaneously positively impacting bottom-line profitability.
The newly raised capital will be deployed to hire new talent, further augment its proprietary capabilities with advanced innovative features and expand its services across the wider region.
Growdash currently operates in the UAE and Kuwait. Following the successful funding round, the company is set to launch its SaaS offering in Qatar and KSA this year, followed by inroads into the wider region in early 2024.
"We are excited to partner with Flat6Labs and Plus Venture Capital; alongside a super-group of F&B industry-focused investors that continue to support and encourage our ambitious plans on a daily basis," said Sean Trevaskis, Co-Founder & CEO of Growdash.
"We're proud to have grown by over 500% this year, so far, which truly validates the problem we are solving for restaurants. This funding will help us further accelerate our growth and achieve our goal of empowering restaurants everywhere to stand out in the highly competitive online food delivery landscape."
Enver Sorkun, Co-Founder & CPO at Growdash, added, "We have purposely built a value-add ecosystem for every stakeholder and made this conveniently accessible through our SaaS platform. We currently help over 150 restaurant brands and the leading regional Food Aggregators achieve greater synergy so that restaurants can finally experience the full opportunity that's on offer to acquire new customers and grow their revenue without taking huge investment risks with growth budgets."
"Growdash has already demonstrated the incredible potential of its platform to revolutionize how restaurants capitalize on the tremendous opportunity for growth that online channels provide," said Ryaan Sharif, General Manager at Flat6Labs UAE. "At Flat6Labs, we are committed to not only providing working capital, but also offering our unparalleled knowledge and expertise in grooming early-stage businesses to cross the chasm from innovative start-up to market leader. This aligns with our continued efforts to create a thriving ecosystem of disruptive start-ups that scale from their headquarters in Abu Dhabi to drive positive and impactful change across the GCC and beyond."
Commenting on the announcement, Hasan Haider, Founder and Managing Partner at +VC said, "We are excited to have invested in Growdash, a unique contributor to the Food and
Beverage industry. We are proud of Sean, Enver and the Growdash team for the innovation and dedication to their mission to empower restaurant growth through analytics & business intelligence, and look forward to helping them scale, revolutionize and become leaders in this space."
Growdash clients benefit from being able to access an easy-to-use dashboard which simplifies and centralizes brand and branch-level performance data across food delivery channels.
Growdash's purpose-built algorithm then analyzes key metrics, including Return on Advertising Spend, Menu Conversion, Average Order Value and Cost per Order, to seamlessly provide growth recommendations and insight across paid campaigns and organic customer conversion; helping restaurants achieve operational profit.