Sheikh Abdullah Bin Zayed Al Nahyan, Minister of Foreign Affairs and International Cooperation, has visited the headquarters of "Element AI", a Canadian artificial intelligence company, WAM reported.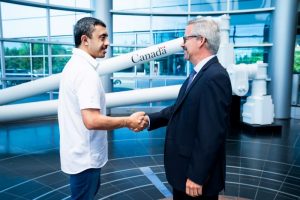 The visit is part of the Minister's official visit to Canada.While at Element AI, he was introduced to the firm's most prominent programmes.
Shaikh Al Nahyan also visited the headquarters of CAE, a Canadian manufacturer of simulation technologies, modelling technologies and training services.
Dr Ahmad Bin Abdullah Humaid Belhoul Al Falasi, Cabinet Member and Minister of State for Higher Education and Advanced Skills, Omar Bin Sultan Al Olama, Minister of State for Artificial Intelligence and Fahad Saeed Al Raqbani, UAE Ambassador to Canada were also part of the delegation.
The UAE Minister and his accompanying delegation proceeded to tour the Agency's facilities, which were equipped with advanced systems used to contribute towards developing Canada's national space sector.
Sheikh Abdullah lauded the Canadian space programme which is administered by the Agency, recognising Canada as one of the leading industrial countries in the field of space science advanced innovations.
The Minister of Foreign Affairs also expressed the UAE's interest to further boost cooperation with Canada in the sector, in light of yesterday's signing of an Memorandum of Understanding between the space agencies of both countries.
Canada's space programme dates back to the post-World War II period, and the country's government agencies continued their commitment to develop and boost the progress of the sector to meet national requirements, hence making it one of the leading countries in its use of innovative technology in the field of space science and the telecommunications satellite industry.