Dubai, UAE, 23rd June, 2021: Veeam Software, the leader in backup solutions that deliver Modern Data Protection, today announced the appointment of Amaury Dutilleul-Francoeur as Vice President of its EMEA Partner Network, and Graham Crich as Vice President of EMEA Partner Services. These appointments reflect the diverse nature of Veeam's EMEA ProPartner Network with two key priorities: the digitalisation of processes and cloud service offerings and enablement of higher levels of value-add created by our partners to meet the evolving requirements of end-customers.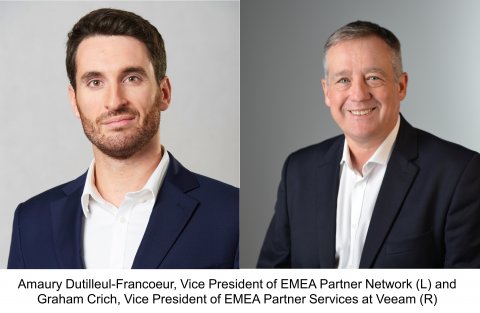 Promoted from his role as Director, EMEA Channels, Dutilleul-Francoeur is now responsible for leading all programs and activities which support Veeam's EMEA ProPartner Network. Dutilleul-Francoeur has been with Veeam for over six years supporting partners having held various channel leadership roles in EMEA and APJ. Crich, formerly Vice President of EMEA Cloud Services at Veeam, is now responsible for the generation and acceleration of value-propositions and cloud services by Veeam's EMEA ProPartner Network. Crich has over 25 years' experience in the IT sector, working in both the vendor and the partner ecosystems, having held various senior leadership roles at VMware. Both roles report directly to Daniel Fried, General Manager and Senior Vice President, EMEA, and Worldwide Channels at Veeam.
"Veeam conducts 100% of its sales through the channel and we are fully committed to enabling our partners to increase and diversify their value-propositions for customers by offering Modern Data Protection solutions across cloud, virtual, SaaS, Kubernetes and physical environments delivered either as a service or on-premises", said Daniel Fried, General Manager and Senior Vice President, EMEA, and Worldwide Channels at Veeam. "To align with the rapid evolution taking place in today's market, this dual leadership structure means we can focus on supporting our partners' innovation and cloud value-propositions, as well as providing the tools and skills required to support Digital Transformation".
"I am excited by this role given the scale of the opportunity to drive further growth within our EMEA partner network", said Amaury Dutilleul-Francoeur, VP, EMEA Partner Network, Veeam. "Given my experience working with channel partners and background in management consulting, my focus will be on how we continue to evolve the value partners can offer customers looking to modernise their data protection practice and digitally transform, as well as how Veeam continues to innovate and offer simple, flexible and reliable solutions that do this".
"Having led Veeam's EMEA cloud division for the past three years, I am delighted about this opportunity to evangelise the role of cloud services in delivering Modern Data Protection that supports digital transformation to our partners across EMEA", added Graham Crich, VP, EMEA Partner Services, Veeam. "Our partners are forming strategic relationships with customers who are looking for a data management platform that is future proof and provides leading multi-cloud solutions".