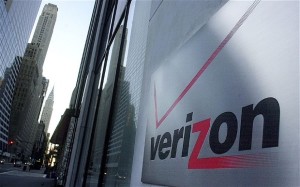 Verizon Communications will report on law-enforcement requests for information on its customers that it received in 2013, following similar moves that major online companies have made, but rival AT&T has not. 
The carrier expects to put out its initial report in early 2014 with data about requests from the U.S. and other countries where it operates. Verizon is one of the two incumbent wireline telecommunications carriers in the U.S. and parent company of Verizon Wireless, the country's biggest mobile operator.
"To the extent permitted by applicable U.S. and foreign laws and regulations, Verizon's transparency report will identify the total number of law enforcement agency requests received from government authorities in criminal cases," Verizon said in a press release on Thursday.
The report will categorise the requests under headings such as subpoenas, court orders and warrants, and provide some other information, Verizon said. It will also include information about requests for information in emergencies. The carrier said it is working with the U.S. government on how much detail it can provide about National Security Letters it received but it won't reveal information about other national security requests.
Verizon said it doesn't sell information that identifies individual customers but is required to provide such data to government agencies in some situations.
"We take seriously our duty to provide such information only when authorised by law," the company said in a statement attributed to Randal Milch, executive vice president of public policy and general counsel. "We have released the lion's share of this data for the past two years, and we are taking this step to make this information more consistently and easily available."
Milch also asked for more government transparency about such information requests.
"Verizon calls on governments around the world to provide more information on the types and amounts of data they collect and the legal processes that apply when they do so," Milch said.
Microsoft and other Internet companies have criticised the U.S. government's collection of data about phone and online activity and have started to issue reports on the requests they receive. Earlier this month, AT&T asked the U.S. Securities and Exchange Commission to agree that it could remove a shareholder request for such reports from its annual proxy statement.
Originally published on
IDG News Service (San Francisco Bureau)
.
Click here to read the original story.
Reprinted with permission from
IDG.net
. Story copyright 2022 International Data Group. All rights reserved.