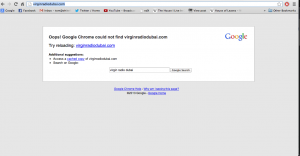 A hacker has apparently taken down the Virgin Radio Dubai website.
The hacker, who goes by the username @OxAlien on Twitter, posted up a picture of his screen as he was apparently removing the link to the website on Monday night. The picture was posted along with the words, "Expect a deface soon."
At first, the motivation behind the attack seemed to be purely financial – OxAlien began bragging about selling the website's database on the black market.
A tweet made on Tuesday morning said, "Another customer 🙂 money money money!! The black market is so awesome =) thank you @VirginRadioDXB."
This tweet was accompanied by another picture – apparently a screen grab of an email conversation between OxAlien and someone interested in buying the website's database.
Following this tweet, OxAlien said, "5 companies contacted me so far wanting the DB of virginradiodubai.com and all are willing to pay >:) ANYMORE?!."
Eight minutes later, another tweet, again accompanied by a screen grab, stated, "Selling the database like hot cupcakes!! 250$.. not bad =D."
However, later on, it transpired that this incident was more an act of hacktivism. An OxAlien tweet made at 12:11pm (UAE time) said, "All the money will go to charity! Hooray!"
At the time of writing, the Virgin Radio Dubai website was still inaccessible, and Virgin Radio Dubai could not be reached for comment.
Little information can be gleaned about OxAlien. The bio on his Twitter profile simply states, "There is no God but God", in Arabic. And his location is listed as "the Hudson River", though this is likely untrue.
According to OxAlien's Twitter feed, it would appear that he is currently still a student; a tweet made on June 1 stated, "Bought a suit for my graduation >:)."
Wherever OxAlien is based, he clearly has a keen interest in the UAE. Further tweets state that he thinks the .ae domain administration is "100%" vulnerable to cross-site scripting, a type of computer security vulnerability typically found in Web applications.