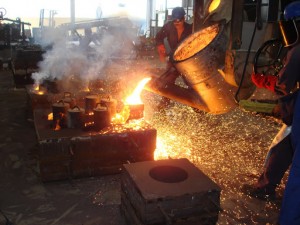 Trinity Holdings has grown a substantial amount over its 30-year history, so it stands to reason that the demands on IT within the company have increased greatly. It was this demand that led to Trinity collaborating with eHosting DataFort, which brought the company up to speed with a top-quality connectivity solution.
Trinity Holdings is home to over 3,000 employees and boasts some very high-calibre customers. The company specialises in offering engineering solutions for the region that aim to "shape the future".
Throughout its history, Trinity has always relied heavily on its in-house IT department to come up with the solutions at any given time of need, and to this day, the company is proud to disclose that all its IT-based solutions are designed, implemented and perfected in-house, with very little input from the outside network.
With nine members working across over 350 computers and 25 servers, Trinity has had its work cut out in recent years. As Raghunandan Tharoor, Group Manager, Systems and IT, states, "As the company continues to grow, so  do the demands."
Over the years, Trinity has identified the need to upscale its existing connectivity and speed to match the growing demands of its group companies. So the firm set out to find a solution provider.
The task at hand
What Trinity was finding was that, with each element of the business feeling increasing pressure and demand, IT couldn't maintain its level of service due to poor connectivity and speed from the data centre.
"We had a solution set up for connectivity and speed," says Raghunandan. "But that was a long time ago and the solution was just good enough for what we needed at that time. Like many companies, Trinity was working on a tight budget, therefore it compiled a very specific list of requirements for vendors to follow, in order to ensure that the partnership was right, the tasks were addressed and the costs were kept to a minimum."
Trinity went into the market and researched solutions which could improve the speed and connectivity – that was when the company found eHosting DataFort (eHDF).
"We told them our limitations, as well as our requirements – we gave them a very specific list of challenges that needed to be addressed, as well as how much we could spend for the project overall," Raghunandan recalls.
eHDF came up with a few options and finally Trinity made a decision to implement a solution from Cisco. Once eHDF had explained the technical side of the solution, as well as tested that the connectivity would match and that the infrastructure would fit the solution, Trinity gave eHDF the green light to get the project up and running.
The idea was to have eHDF provide the extra speed and connectivity for its network, managed off-site at eHDF's data centre, fully managed and controlled from a central hub, ensuring zero worries or concerns for Trinity from then on.
"We started off small with about three locations all connected. However, now we're close to about 10 to 12 locations," Raghunandan says. "The initial planning from eHDF took not more than a month – they came in, checked out our entire suite and infrastructure and, within around five weeks, the project was completely executed."
Part of the service level agreement from eHDF states that it is accountable for the entire connectivity and speed of the network. And according to Trinity, the job so far has been executed flawlessly.
"We used to be able to cater to around six or seven employees at one time – now the maximum is in the hundreds and the improvement has been tenfold. If ever there is a time when we need to adapt the infrastructure and build on it, eHDF will take care of this centrally. The hub at their data centre plays a vital role to us here," Raghunandan says.
No sign of slowing
The eHDF solution has been running smoothly now, without trouble, for over six years at Trinity. This makes it an impressive legacy already, it would appear. However, the IT department continues to push the technological limits at the company, and a hybrid virtual environment is becoming the primary focus now.
"IT is integral to all business needs now – from our perspective, we've never been more important. The company recognises this and we have good budgets and support at the moment," says Raghunandan.
"Apart from what's at eHDF's data centre, we have all servers and network devices locally – this is another example of our team's specialisations. The websites are even done in-house – 80 per cent of the IT activities are designed, implemented and managed in-house."
The rarity of Trinity's external solution quest speaks volumes, and the partnership with eHDF seems to show no sign of slowing.
"We plan to continue our relationship with eHosting DataFort; they've been very good to us."
The engineering solutions company continues to shine in the market – the IT being a key enabler in that. What this successful partnership has done is contribute heavily to a fast growing, expanding and maturing company.