CNME Editor Mark Forker spoke to Omar Javaid, President, API Group to find out how its communications technology is equipping businesses with the tools they need to maintain business continuity against the backdrop of the global COVID-19 pandemic.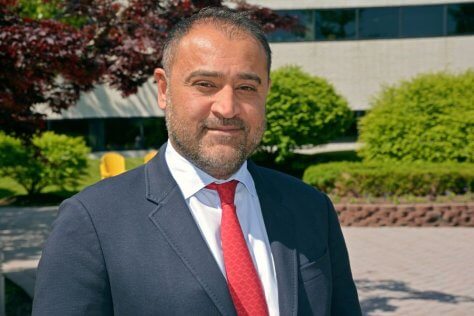 How is Vonage helping its customers to embrace and adapt the concept of 'remote working' which has been accelerated due to the outbreak of the COVID-19 pandemic?
Amidst this unsettling, challenging time, many businesses are scrambling to adjust to the 'new normal' while adhering to best practices and safety precautions outlined by global health organisations.
At Vonage, we are doing everything we can to maintain the health and well-being of our employees, while also ensuring we run our business effectively and help our customers do the same. Because of the flexibility of our platform, the fact that we own our full technology stack, and the nature of our cloud-based services, Vonage is uniquely equipped to help customers overcome the communications challenges resulting from the COVID-19 crisis.
No matter the situation, Vonage solutions can empower businesses to connect with whoever they need, whenever they need, from wherever they need – from quick, easy transitions to remote office set-ups using the Vonage Business Communications (VBC) platform to ensure business continuity; to fully functional virtual contact centers that quickly replicate existing call plans and workflows to distribute calls to remote agents, wherever they may be; to powering virtual visits with doctors and educators through the power of Vonage APIs and the Vonage Video Conferencing solution.
We recently announced a range of new offerings designed specifically to address the increased demand for remote work, video capabilities, and timely alerts. In fact, in response to the COVID-19 crisis, Vonage developed a new SMS alert solution that can link anyone on earth with their local government agency for real-time updates on the pandemic, including agencies such as the CDC in the United States, the NHS in the UK, and the WHO.
Vonage has long championed emerging communications technologies that have transformed modern forms of business communication in the Middle East. However, do you think COVID-19 in an indirect way has really illustrated how businesses can better engage with their customers in real-time from anywhere in the world?
The COVID-19 crisis moved quickly and has had massive, global implications for all businesses. I think a lot of companies were caught by surprise by the reality of this situation and quickly realised that they did not have the tools in place to best support their employees and customers. Sometimes, we just are not able to continue with business as usual.
When that happens, having a strong communications plan in place can be helpful. Whether by implementing technology that can help with challenges, such as sudden increases in remote work or having a strategy when face-to-face interactions must become virtual conversations, companies can start planning now for the next time business continuity becomes a challenge.
From now on, businesses will know the importance of enabling remote work – for challenging times as well as to simply offer flexibility to their employees.
Vonage is fortunate enough to work with some of the most innovative digital start-ups and agile enterprises in the region, including Aramex, Etisalat, Noon Academy, Souq.com and more. Our projects with these companies have been focused around Digital Transformation and helping local Middle East businesses adapt to the experience economy, by bringing Vonage international expertise and combining local culture and customs.
In 2020 focus and priorities in the Middle East have changed from Digital Transformation to business continuity and operational scalability, and we're proud to confirm that Vonage is at the core of these requirements.
Do you think if remote working is a success in the Middle East, that there could be a paradigm shift culturally in how we view working from an office?
While the COVID-19 virus caused an expedited shift to widespread remote work, the movement toward a more distributed workforce has been growing organically.
For example, 6 in 10 UAE businesses have introduced flexible hours for workers and sought to impose travel restrictions in response to the COVID-19 outbreak. Companies are becoming increasingly reliant on video, or audio-conferencing tools' and the rapid changes could lead to long-lasting changes in employment practices even after the crisis ends.
Traditionally, the Middle East was behind some of the more mature markets, like the US, UK and Singapore in the WFH area. However, now companies may realise they have similar or greater productivity when their employees work remotely and contemplate making the change permanent. Companies like Careem, Souq.com, Noon.com and Talabat.com are leading examples of this change.
Rather than try to stop this inevitable shift in the way we work, business leaders can instead embrace our ability to bring the office anywhere. To help them prepare for this new paradigm, they can turn to technologies that specifically allow for productive, efficient, and easy remote work that can be a pillar of business continuity.
Can you tell our readers what the unique capabilities of the Vonage API Platform are?
Vonage makes communications more flexible, intelligent, and personal, to help enterprises the world over, stay ahead.
We provide a unique combination of unified communications, contact centres and programmable communications APIs, built on the world's most flexible cloud communications platform. This flexible approach helps us to better serve the growing collaboration, communications, and customer experience needs of companies, across all communications channels.
We are in a unique position in the market globally, and for the Middle East especially, because our platform and solutions can improve both internal collaboration with employees, external communication with customers, at scale and on budget.
The Vonage API platform provides communications APIs that allow businesses to embed contextual, programmable communications via messaging, chat, social media, video, voice and more into mobile apps, websites and business systems. Leveraging Vonage APIs, businesses can innovate the way they engage with their customers in real time, anywhere in the world, through their preferred channels.