Western Digital has announced a new, high-capacity configuration of up to 10TB for its WD Gold datacentre hard drives.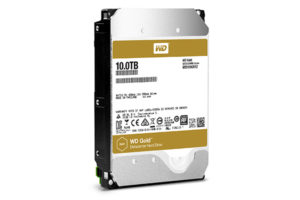 Designed for modern enterprise storage systems, WD Gold 10TB datacentre hard drives feature HelioSeal helium-technology for "high capacity, power efficient storage."
WD Gold datacentre hard drives are designed for a broad range of applications – including small- to medium-scale enterprise servers and storage, and rack-mount datacentre servers and storage enclosures.
The hard drives feature an optimised design over the existing WD Gold 8TB drives, which hopes to reduce TCO (total cost of ownership) of servers and storage systems, through an 8 percent operating power reduction, while delivering 25 percent more capacity. This aims to benefit IT administrators challenged with keeping up with growing storage demands on limited budgets.
"It is Western Digital's on-going  goal to provide superior reliability and compelling value to the our enterprise customers," said Brendan Collins, Vice President, Product Marketing, Western Digital. "WD Gold drives are a key component of the overall WD  portfolio, providing power efficient, capacity-optimized storage for a wide range of high workload applications. The new 10TB capacity enables customers to efficiently deploy higher density storage solutions."
The 10TB hardrives claim to provide high reliability, improved power efficiency, and better performance. They are currently available at select U.S. distributors, resellers and through the WD Store.