The UAE satellite operator Yahsat, a unit of Abu Dhabi's Mubadala Investment Company, forecasts strong demand for its in-flight Wi-Fi service from low-cost carriers seeking to maximise revenues, and e-commerce firms offering deals to passengers, its chief executive told The National newspaper.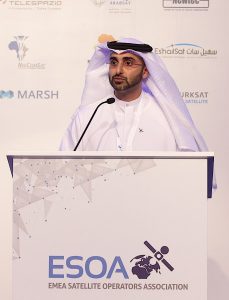 "Naturally, I would expect the low-cost carriers would be the ones who came to us as it makes sense for them not to invest hundreds of millions of dollars in an IFE [in-flight entertainment] system," the Yahsat chief executive Masood Sharif Mahmood told The National.
He said Yahsat had held talks with executives from Sharjah-based Air Arabia during the Dubai Airshow last week and, while the company is yet to meet the low-cost airline Flydubai.
In-flight Wi-Fi offers benefits for the region's expanding e-commerce sector, too. "Imagine the revenue-generating possibilities for airlines and retailers, for Amazon or [the UAE shopping site] noon.com. Look at how many people are travelling in the sky; in terms of retail, these guys are being served by [Duty Free] trolleys being pushed down the aisle, which is Stone Age.
"Imagine the tie-ups that could be formed, the possibilities for air passengers to pre-order after boarding and get [their purchase] delivered at the end of their journey. We could have a global chain of retail," The National has quoted Mahmood as saying.
Mahmood said Yahsat had yet to hold talks with noon.com but added "definitely this is a conversation we know airlines are keen to engage in".
Yahsat last month trialled a 50Mbps (megabits per second) in-flight broadband connection that it claims will "change the way passengers experience air travel across the world".