23rd August, 2021, Dubai, UAE: KSA-based Yalla Group has reported record downloads and unprecedented in-app purchase revenue since it released its flagship gaming app Yalla Ludo on HUAWEI AppGallery in August 2020.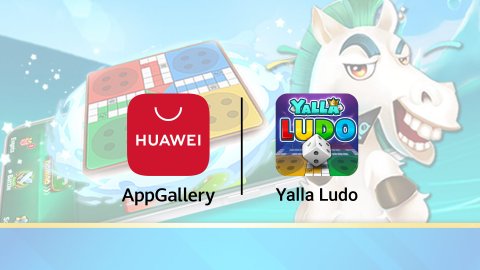 Yalla Group Limited is a developer of social networking and entertainment platforms, from and for the MENA region. The developer's most popular applications are Yalla, for high quality voice chat, and Yalla Ludo, a digital room where users play popular board games such as Ludo and Domino.
Having noted success on other mobile platforms, Yalla Group turned to HUAWEI AppGallery, the default application marketplace for Huawei devices, to engage with a large and growing audience on an increasingly popular choice for smart device users in the MENA region.
"The decision to launch our flagship game on the Huawei ecosystem made absolute commercial sense", said Peng Zhang, Product Director of Yalla Ludo. "We discovered that the ability to quickly and easily port existing apps to HUAWEI AppGallery is one of the outstanding features of the Huawei ecosystem. We did this using HMS Core, the development environment for Huawei smart devices, which supports quick and efficient development, and also facilitates the addition of features like secure sign-in, in-app payments and downloads, advert placement and alerts".
Huawei recently introduced HMS Core 6.0, an upgrade that equips developers with the company's advanced technologies including features such as volumetric fog, AI-powered networking kit, AV Pipeline Kit, and a 3D Modelling Kit.
As a publisher, Yalla Group generates most of its revenue from in-app purchases and from this perspective, releasing their apps on HUAWEI AppGallery has been a big success. Net average revenue per user (ARPU), the amount that accrues to Yalla Group, has been consistently high since its launch on HUAWEI AppGallery.
The game has been downloaded close to 2 million times since its launch on HUAWEI AppGallery from August 2020 to July 2021.
"User behaviour has been very much as we would expect", said Peng Zhang, Product Director of Yalla Ludo. "There was a peak in downloads in month two, followed by a very gentle levelling off. There has, however, been a strong recovery in downloads in April and May, which suggests that our game is attracting positive word-of-mouth".
The decision to embrace the Huawei ecosystem was deemed a resounding success, and consequently Yalla Group has also released the Yalla chat app on HUAWEI AppGallery. The growing base of Huawei device users, and the ease of integration, positions the HUAWEI AppGallery as a valuable environment for app publishers and operators to extend their success.
As part of Huawei's ongoing efforts to support established and upcoming app developers worldwide, the tech giant has launched this year's edition of the global US $1 million Huawei HMS App Innovation Contest (Apps UP) and is welcoming applications until 5 September 2021.
The leading contest is set to provide developers and creators with a platform to showcase their applications and create innovative digital experiences. Participants from the Middle East and Africa will have a chance to win prize money worth US$200,000 from eight categories, and additionally access a variety of workshops. Winners will gain instant access to a pool of more than 700 million Huawei mobile device users.
Less than 2 weeks remain for the application deadline. To register and learn more about Huawei HMS App Innovation Contest (Apps UP) please visit:
https://developer.huawei.com/consumer/en/activity/digixActivity/digixdetail/101618451100197545