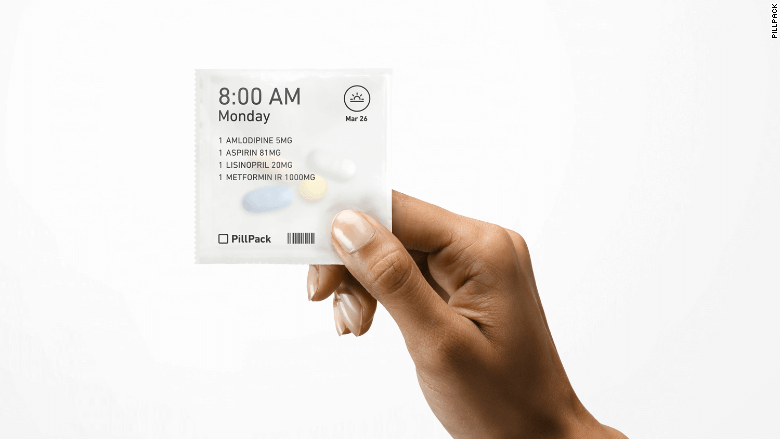 Amazon is buying its way into the heart of U.S. healthcare, shaking up a prescription-drug industry already in the midst of a broader transformation, and is set to pay about $1 billion for Boston-based online pharmacy PillPack, a person familiar with the matter told Bloomberg.
Insurance companies and drug-benefit managers have struck a series of deals in recent months designed in part to thwart a potential big splash in the health world from Amazon. But the online retail giant's decision to buy online pharmacy PillPack rapidly accelerates the threat posed to entrenched retailers, suppliers and middlemen.
The transaction is expected to close in the second half of 2018, according to a statement from the companies.
PillPack has mail-order pharmacy licenses in all 50 U.S. states, which could allow Amazon to expand quickly. PillPack also has relationships with most major drug-benefit managers, including Express Scripts and CVS, and says it works with most Medicare Part D drug plans.
Those ties will give Amazon access to much of the prescription drug market in the U.S.
PillPack sells pre-sorted packets of prescriptions drugs, delivering them to customers in their homes.
The closely held firm has software that automates many tasks, such as verifying when a refill is due, determining co-pays, and confirming insurance. That eliminates much of the manual work that pharmacists often are saddled with now.
 The U.S. market for prescription medicine is vast. In 2016, U.S. consumers spent $328.6 billion on retail prescription drugs, according to U.S. government data. CVS had prescription sales of $59.5 billion last year, while Walgreens sold $57.8 billion worth of drugs in its fiscal 2017.
Amazon CEO Jeff Bezos has been using in-house engineering and acquisitions to infiltrate a growing number of businesses. He took on the $800 billion grocery industry with last year's purchase of Whole Foods, and broke into consumer electronics with the creation of the Kindle e-reader and Echo voice-controlled speaker.
Bezos has previously signaled his frustration with a US healthcare system characterised by rising costs for consumers and companies.
Earlier this year, he and fellow CEOs Warren Buffett and Jamie Dimon of Berkshire Hathaway and JPMorgan Chase & Co., respectively, agreed to form a new venture to reshape how the companies handle worker health benefits. The entity recently hired celebrated surgeon and health journalist Atul Gawande to steer the effort.
Pharmacist TJ Parker and computer scientist Elliot Cohen founded PillPack in 2013 after meeting at a medical-technology program at the Massachusetts Institute of Technology. The company raised more than $118 million from brand-name investors including Accel, Sherpa Capital and New York rapper Nas's Queensbridge Venture Partners.