Huawei, in collaboration with Saudi Arabia's Ministry of Communications and Information Technology (MCIT), has hosted a dedicated 5G onboard training programme.
The event, which was held at MCIT's headquarters, is part of Huawei's ongoing 5G Roadshow in Saudi Arabia, which is touring the Kingdom to raise awareness of the next generation of 5G connectivity and seeking to develop ICT talent locally.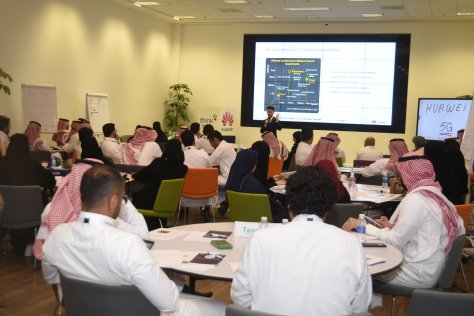 The latest three-day training programme was conducted by Huawei experts in partnership with MCIT under the umbrella of the Ministry's ThinkTech initiative, with the attendance of Dr. Ahmed Altheneyyan, Deputy Minister for Technology and Digital Capacities Development.
The training provided end-to-end 5G knowledge as well as hands-on demos available within Huawei's 5G Roadshow truck. The workshop covered topics such as 5G motivation and industry trends, 5G network architecture and key technologies, as well as providing recent 5G use cases and global best practices. In addition, it touched on the key challenges facing the sector, including the procedures required to equip telecommunications networks in the Kingdom.
Saudi Arabia is poised on the brink of the 5G era, as operators across the Kingdom prepare to roll out the next generation of connectivity nationwide.
According to MCIT, there are around 1,000 5G towers up and running across the country already, establishing the Kingdom as a forerunner in deploying 5G not only in the region, but on a global scale.
Dr. Ahmed Altheneyyan, deputy minister for Technology and Digital Capacities Development, said, "A deeper understanding of 5G's value will enable us to better explore the full potential of ultra-broadband networks and applications. As a superior connectivity solution, 5G will usher in new ways of working across our society, empowering us to achieve the ambitions of Saudi Arabia's National Transformation Plan 2020 and Vision 2030. As a global leader in the development of 5G networks and technology, Huawei has been the ideal partner for us in this endeavor."
Huawei has been a partner of choice for telecom carriers globally in 5G network development, in part because of its broad range of end-to-end 5G solutions covering network sites, architecture, protocols, network operations and maintenance.
Dennis Zhang, CEO of Huawei Tech Investment Saudi Arabia, said, "Our 5G Roadshow truck is the first of its kind in Saudi Arabia, which not only allows people to learn about the value of 5G connectivity, but to experience it with real applications—giving them a sense of the immense potential of this next generation of connectivity. Working with partners such as MCIT enables us to contribute to the development of a deeper understanding of the technology as it rolls out in the Kingdom. The 5G On Board training program and roadshow itself also offers an opportunity for those within the community to get a first look at 5G and the exciting careers within Saudi Arabia's thriving ICT sector."